After Windows 8 was released officially and laptops/tablets laden with Windows 8/Windows RT started flooding the markets, it was widely anticipated that these devices would do brisk business but according to Amazon lists, that doesn't seem to be the case. And the top honor for the best-selling laptop goes to . . wait for it . . a Linux-based Chromebook.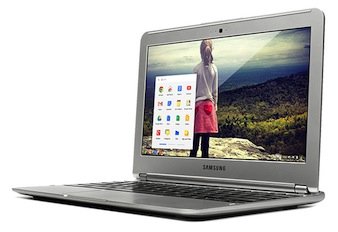 The Chromebook by Samsung is the surprise winner and has plunged itself ahead in the race with other Windows devices in being the most popular 'laptop' on Amazon. There might have been a few reasons for this surprise entry. Firstly, it's pretty cheap with $249 as the list price but is being sold on Amazon at $316.
Users seemed to have bought this piece of technology as it's not just light-weight but also simple to the core. Switch it on and you're instantly on the Internet. The Chrome OS also maybe another reason as users are already well aware about using the similar Chrome Web browser. Windows 8 though being intuitive and simple needs tutorials for the first shot.
But a major disadvantage is that Chromebooks are literally dormant without an Internet connections and not all desktop tasks/actions can be completed on it as essentially, it is neither a notebook nor a laptop.
The Samsung Chromebook (Wi-Fi, 11.6-Inch) costs $316.32, Chromebook (3G, 11.6-Inch) costs $429.99 and the Samsung Series 5 550 Chromebook (Wi-Fi) costs $449.99.