Some of the big names have joined .NET Foundation Technical Steering Group ever since inception. This year in June, Samsung also joined the group to create ARM support in .NET Core. On November 16th, the .NET Foundation announced that Google has joined the .NET Foundation Technical Steering Group. The .NET Foundation has partnered with some of the biggest software giants such as Microsoft, Red Hat, JetBrains, and Unity.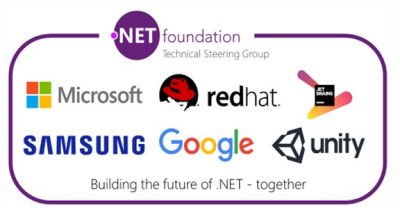 Google joins .NET Foundation Technical Steering Group
Prior to joining the .NET Foundation, Google was actively contributing to the .NET Foundation projects for the last two years. Google was also helping to drive the ECMA Standardization process for C#. In fact, .NET workloads have a great support on Google Cloud Platform including recently announced native integrations into the popular Visual Studio IDE on Windows and deep support for PowerShell.
Chris Sells, Lead PM for Google Cloud Developer Tools said about Google joining .NET Foundation that,
"We're very happy to add .NET support to our list of supported frameworks on Google Cloud Platform. Enterprises moving their existing Windows and .NET workloads to the cloud or those targeting .NET Core can find what they need to build great apps for Google Cloud Platform."
Samsung's role in.NET Foundation Technical Steering Group
When Samsung joined .NET Foundation Technical Steering Group, they started focusing on ARM support in .NET Core. .NET Foundation announced on November 16th that Samsung has released the preview of .NET Core support for the Tizen operating system and their Visual Studio Tools for Tizen. The Visual Studio Tools for Tizen support mobile application development with device emulators and an extension to Visual Studio with full IntelliSense and debugging capabilities. We may be able to see the support for wearables, Smart TVs, and IoT devices in near future.
Tizen Operation System, or more popularly known as Samsung Tizen OS, is an open source operating system based on Linux, supported by the Linux Foundation and open to all developers. Unlike Android, Tizen not only works on smartphones; but also on several other smart devices such as TVs, refrigerators, wearables, tablets and even smart cameras. Currently, Tizen OS controls 50 million Samsung devices, including Smart TVs, wearables, smartphones, and home appliances.
Seung-hwan Cho, Samsung's Executive Vice President and Deputy Head of Software R&D Center said when the company joined the .NET Foundation Technical Steering Group;
"Samsung is excited to be a part of the .NET community. .NET has a huge developer base and future potential. Through thoughtful and progressive collaboration, Samsung is expecting to create unique development experiences for both Tizen and C# developers, enriching the Tizen ecosystem."
To know more about these two announcements, read the blog on .NET Foundation.