The latest report by ComScore, a leader in the digital world has revealed nearly 90% of the U.S. smartphone market is captured by Apple and Android devices, combined. With this, the two rivals have taken complete control over U.S. smartphone market.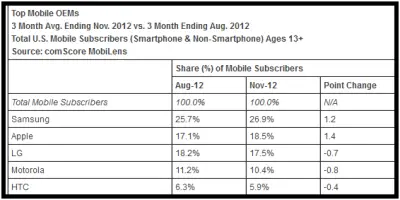 ComScore Reports November 2012
The report comes before us after surveying more than 30,000 mobile subscribers in The United states. It shows Samsung as the leading manufacturer of cellphones with 26.9% of the market — up 1.2% from August. Samsung is followed by Apple which stands in second place with a market share of 18.5%, up by 1.4 percent.
This shows, in spite of the recent tiff and the expensive $1.05 billion court case going in Apple's favor in the U.S., Samsung has managed to lead in mobile sales in the same country. The iPhone maker still trails behind with a good margin.
Not much behind Apple is LG, which holds on to 17.5% of the cellphone market. Lagging behind in he competition are some leading brands such as Motorola and HTC, which saw their shares falling by 0.8% and 0.4%, respectively. Motorola had a 10.4% cellphone market share while HTC's slice of the pie fell to 5.9%.
In the smartphone OS market share, Google may not be leading with the Nexus 4, but it seems to have made up on the software front. Individually, the Google's Android operating system leads the way with 53.7% of the market. Apple, on the other hand, accounts for 35%.
Losing out in the competition are Research In Motion and Microsoft, which were popular at one time but now but now account for just7.3% and 3% of the market, respectively.
comScore further reports that the number of U.S. smartphone owners increased by nearly 7 million and now stands at 123.3 million, which is 53% of all phone subscribers.