In a star-studded award ceremony last week, CNN-IBN announced winners of Indian of the Year 2014 (IOTY 2014) in various categories. Microsoft CEO Satya Nadella was awarded the CNN-IBN Indian of the Year 2014 in the Global Indian section.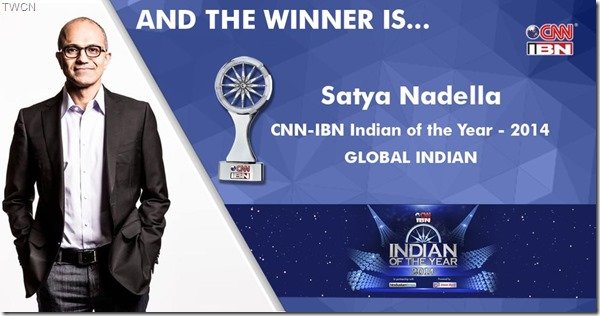 This is the 9th edition of the award introduced in 2006. The awards adhere to a robust procedure in selecting the awardees. CNN-IBN is a partnership between Global Broadcast News (GBN), a Network18 Company, and Turner International (Turner) in India.
About the CEO
Satya Nadella is the third CEO of Microsoft after Bill Gates and Steve Ballmer. Born in Hyderabad, India, he did his schooling from Hyderabad. After that he completed his Electrical engineering from Mangalore University.Then he went on to earn a master's degree in computer science from the University of Wisconsin – Milwaukee, then a master's degree in business administration from the University of Chicago.
Growing up, playing cricket was his "passion," and he played it competitively as a member of his school's team. "I think playing cricket taught me more about working in teams and leadership that has stayed with me throughout my career."
He started his career at Sun Microsystems. In 1992, he joined Microsoft. His anointment as the CEO signaled that Microsoft,wanted to focus on devices and services. Several of his decisions are counted as the first for the company, like Microsoft announcing the Office software suite for Apple's iPad. Many of the apps developed by Microsoft are now also available across platform be it Android or iOS and are very popular. To attract manufacturers, Microsoft made Windows for devices with screen sizes of less than 9 inches free. Under him, Microsoft is also pushing its Azure cloud platform aggressively.
He has made a good start as CEO of Microsoft. Once again congratulating him winning the IOTY 2014 Award and wishing he succeeds further and takes Microsoft to new heights.