Digital notetaking takes a new shape as Microsoft Garage project delivers yet another innovative project called Plumbago. Now you can bid adieu completely to pen and paper for any note taking task, Microsoft Garage app Plumbago has a lot of new features to offer.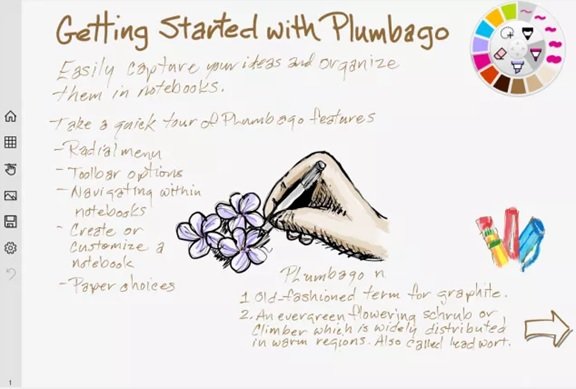 A Latin name for Graphite (an indivisible part of any pencil), Plumbago app is the perfect choice for tablet users. The Plumbago app is optimized for stylus and touch and recreates an analog magic of writing  without  involving pen or paper. So, it lets you go digital anytime, anywhere.
Plumbago app from Microsoft Garage
The new Microsoft Garage app Plumbago is designed for Windows 8.1 and 10 tablets. This is a digital notebook with technology that smooths out the handwriting. The app consists of realistic ink technology that looks and feels like pen-and-paper handwriting. Plumbago has an optimized tool picker that reduces the number of taps to access any of its features, paper selector and notebook covers.
Gavin Jancke, the UI software engineer for the Plumbago app says,
"We were thinking about how to make a great experience that really took advantage of the Surface and its pen, and could replace a physical notebook. There are tactile, perceptive and visual properties about a real notebook that are hard to displace. So our goal was to create a neat Windows app using technology that could potentially displace those physical and perceptive artifacts. So here we are today with something that will hopefully resonate well with consumers."
Gavin, who is also the general manager of engineering in Microsoft Research, requests everyone to help test the experience and give feedback to refine the technology.
This new supply from Microsoft Garage has the ability to transform your handwriting. Well, not completely; but Plumbago will make it look more consistent across a notebook through a technology called as handwriting beautification.
The Handwriting beautification technology involves efficient stroke matching across the thousands of strokes written by a user. If the technology finds matching strokes, then it averages the strokes to produce more consistent and easy-to-read handwriting.
If you love writing and want to try Plumbago, then you can download the app from Windows Store and Microsoft Garage site.