This adware warning notification on your Windows PC might be fake! A new malware is targeting the Windows users these days. Unlike the common phishing activities, cyber criminals this time are pushing a fake version of the popular browser hijacker removal tool AdwCleaner and asking for $59.99 to download a free version of AwdCleaner.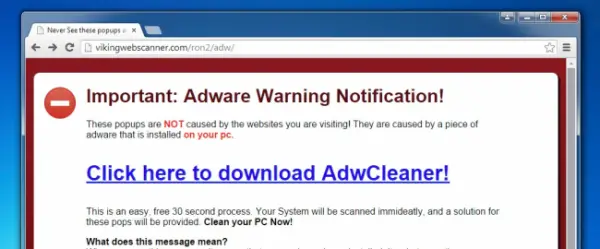 AdwCleaner is a very popular malware removal being used by Windows users for years. The hackers push absolutely real looking software to your computer systems which automatically scans your computer and reports some serious viruses detected. Users are then imposed to upgrade and pay an amount of $59.99 for the premier version of AdwCleaner which is actually free to download.
How-To-Geek  found that scammers have started misusing the good name of AdwCleaner. This fake gets installed on people's PCs that are already infected with adware or spyware and then 'warns' users about the presence of 'malware' in their PC. Clicking on the warning will display a warning message with a download link to this fake AdwCleaner.
The warning message pop-ups are so random that it annoys the user and tempt them to pay for the upgraded version of AdwCleaner, which is actually fake. The scammers then ask for payment via PayPal to 'disinfect' their PC.