Facebook has launched a new feature Scrapbook, that lets parents organize all their children's  photos in one place. This feature has been a result of the survey conducted by the Facebook team, and their observation that while parents were sharing photos of their kids, there was no way to manage the collection efficiently.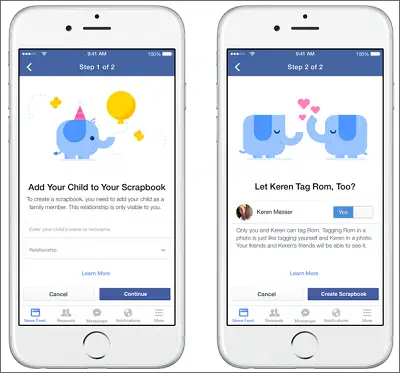 Scrapbook for Facebook
Announcing this feature, Facebook said,
Our team ran a small survey for parents who share pictures of their children on Facebook and found that 65% of them tag their partner in these photos to share them with their partner's friends. These same parents also told us they want to collect photos of their little ones in a place that will grow with them over the years. With these insights in mind, we set out to help people who are already sharing and tagging photos of their children on Facebook have a better experience.
Scrapbook for Facebook
If you want to start the Scrapbook for your child, click About and click on Family and Relationships. You will see an invitation to create the Scrapbook and click Get Started. If your child was already added to your profile, click on Add Scrapbook beside his or her name.
Parents can have the control of the photos present in the Scrapbook as follows,
You can even make your partner as the co-owner of the created Scrapbook, but you should be in relationship with your partner on Facebook.
You can choose your child's name, initials, nick name or something funny as the tag, to tag your child.
You and your partner can choose the photos you want to tag your child.
Other than you and your partner, no one can tag your child in the photos.
This feature will be rolling out today on Facebook for desktop, Android and iPhone and is available for people in U.S as of now.