Microsoft has implemented a new security mechanism to protect enterprise Windows 10 PCs in the wake of the pandemic. Now that employees have been using enterprise devices away from their office environment, the need to ensure the safety of office computers has grown stronger than ever. That's why Microsoft has added a new setup experience to the Microsoft 365 admin center on Windows 10 computers.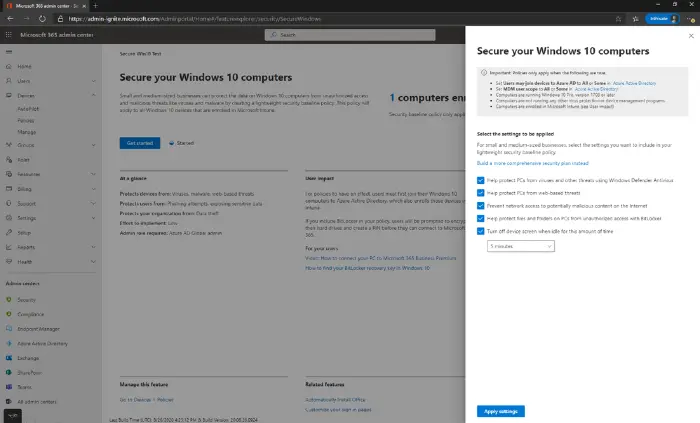 Secure your Windows 10 computers
In its recent blog post, Microsoft wrote:
"To make it easier for you to protect your organization's devices, we've added a new setup experience to the Microsoft 365 admin center that allows you to establish a security baseline for all of the Windows 10 PCs in your organization in just a few clicks."
According to the company, this new setup experience to the Microsoft 365 admin center on Windows 10 is limited to customers with Microsoft 365 Business Premium subscription plan. The rollout has already begun and the updated security experience should be available to all eligible customers in the coming months, Microsoft has confirmed.
How to access these new security capabilities in Microsoft 365 Admin Center on Windows 10
Go to Microsoft 365 Admin Center and open Setup on the left menu.
Find Secure your Windows 10 computers under Sign-up and Security.
Click the View button.
Now, click the Get Started button.
These capabilities primarily target small and medium-sized businesses and simplify the process of setting up Intune-powered devices policies.
Meanwhile, large businesses and organizations can use the Endpoint Manager admin center instead. The Secure your Windows 10 computers page on the right side recommends five policies to apply a security baseline.
These are designed to enhance the security of your organization's Windows 10 computers while at the same time, minimizing user impact and limiting management complexity.
These policies are subject to input and feedback from Microsoft partners that work with SMBs with knowledge about Intune policies, among other things.
Right now, Microsoft is in the process of rolling out these capabilities.