Without even taking the name of the Russian antivirus company in a blog post, Microsoft has indirectly responded to Kaspersky, detailing its security process. The company posted a defense of their Windows Defender practices which has been a cause of anti-trust complaint by Kaspersky at numerous European courts.
Kaspersky fired shots at Microsoft
Kaspersky had accused Microsoft of promoting its own Windows Defender at the expense of 3rd party Antivirus software. In the complaint they said, Microsoft automatically turned Windows Defender on when a 3rd party antivirus subscription expired.
The complaint also said that Windows 10 updates at times cause Kaspersky to totally disappear from the users' PCs. At that time, Windows 10 automatically turns on Windows Defender, saying that the Kaspersky anti-virus "doesn't work on this version of Windows." Kaspersky complained that independent software developers were given very less time before the release of Windows 10 to ensure that their software was compatible with the new operating system.
The blog post doesn't mention Kaspersky by name, but it is clearly a reply to the allegations by the anti-virus company.
Microsoft Defends Windows Defender against Kaspersky complaints
Windows 10 The Safest And Most Secure OS Platform
Microsoft's blog post was penned by Rob Lefferts, Partner Director, Security & Enterprise, Windows & Devices Group, Microsoft. In the blog post, he did not deny the above actions but did deny any malicious intent. Lefferts said that their drive was to make Window 10 the safest and most secure version of Windows ever.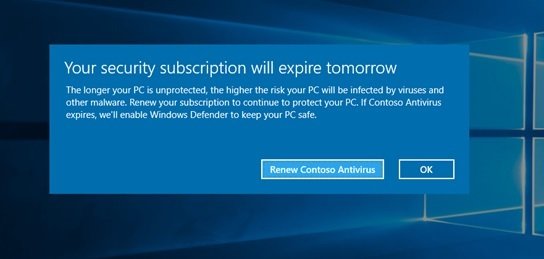 Rob Lefferts said,
"We remain ever vigilant in our conviction to make Windows 10 the safest and most secure OS platform ever and earn our customers' trust every day. To do that we will support a vibrant ecosystem of security solutions. Wherever possible, Windows will help customers make informed choices and respect user choice for security protection."
Windows Defender Does Not Run Periodic Scans
Microsoft said its Windows Defender anti-virus solution supports all Windows 10 machines. But it does not run periodic scans for those users who have third-party anti-virus solution. According to the blog post the software automatically turns ON if a third-party anti-virus solution license expires.
Microsoft Uninstalled 3rd Party Antivirus Software
Microsoft also admitted to occasionally uninstalling 3rd party antivirus software, but this was only when the software was incompatible. The blog post said,
"Microsoft's application compatibility teams found that roughly 95% of Windows 10 PCs had an antivirus application installed that was already compatible with Windows 10 Creators Update."
Helped AV Vendors Be Compatible With The Latest Updates
Microsoft noted that through the Insider program they gave developers plenty of opportunities to test their applications to ensure they were compatible. The blog post also noted that Microsoft has "worked closely" with anti-virus companies to provide them with upcoming changes, early builds, testing environments, and technical guidance through a variety of programs.
Microsoft said it has "doubled down on our efforts to help AV vendors be compatible with the latest updates."
Rob Lefferts ended by saying,
"Microsoft has actively engaged for more than 20 years with our antivirus ecosystem partners around the world to protect Windows users in the face of evolving cyber threats. We look forward to continued collaboration with these partners toward our mutual goal of protecting customers."
Microsoft shared key technical details of Microsoft technologies with their AV partners through the Microsoft Virus Initiative (MVI) program. This was an effort to collaborate on future directions allowing the whole ecosystem to advance together as a whole.