Microsoft has always been generous with the society. The company's co-founder, Bill Gates, dedicated his life to philanthropy by starting the Bill and Melinda Gates Foundation. He pledged at least half of his wealth to charity. But it doesn't stop here. Microsoft has been building apps for the differently abled as well.
Seeing AI app for iPhone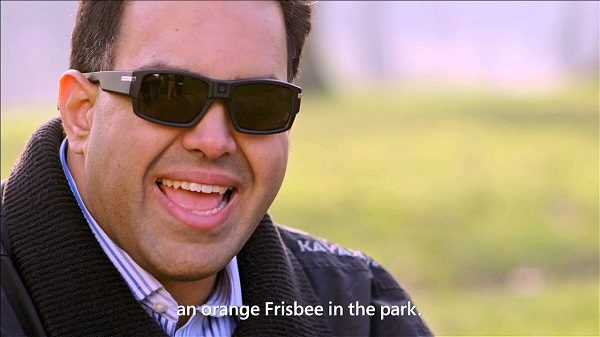 The latest application from Microsoft, for iPhone, is the Seeing AI, which is a talking camera for the visually impaired. It converts the visual world to audio. Though nothing is perfect when made at first, we are sure Microsoft, as a mature company would consider feedback from time to time and keep improving upon their application.
The app claims to describe whatever the camera captures as audio. At a smarter level, it would be able to recognize faces of friends and read the text. That is enough to make life easier for blind people straight away. However, Seeing AI has different modes for recognizing different objects.
Seeing AI is a revolutionary application. Many attempts were made in this direction earlier, but with little success. Though time would test the efficiency of this app, the video demonstrations look pretty genuine.
The developers of the app said, "Seeing AI is built to help you achieve more by leveraging the power of the cloud and artificial intelligence. As the research progresses, more channels may be added."
The application has been launched for the iOS platform only. Even more, it is limited to the following countries as of present: US, Singapore, Hong Kong, India, New Zealand and Canada. However, Microsoft has promised that they would launch the app in more countries soon and even bring more versions for other platforms.
Other than the Seeing AI application, Microsoft also launched AI for Earth, a program targeted towards creating projects to make environment-friendly IT products.
Brad Smith, President and Chief Legal Officer, said, "The power of artificial intelligence towards solving some of the biggest environmental challenges of our time. Our goal is to empower others in new and more impactful ways to help create a more sustainable future. This program expands our commitments to democratizing AI and advancing sustainability around the globe. And it builds upon our experience in accelerating the pace of innovation bringing together philanthropic work, connectivity advances and more accessible technology around the world."
The Seeing AI app can be downloaded from itunes.apple.com. You might want to also take a look at some more iPhone apps for Microsoft here.