A new change in Office 365 will let users create Office documents directly in Yammer service and co-author them with members of their Yammer group. The new approach from Microsoft is intended to enhance productivity experiences of its Office users and enable deeper integration of the software with other services like Yammer.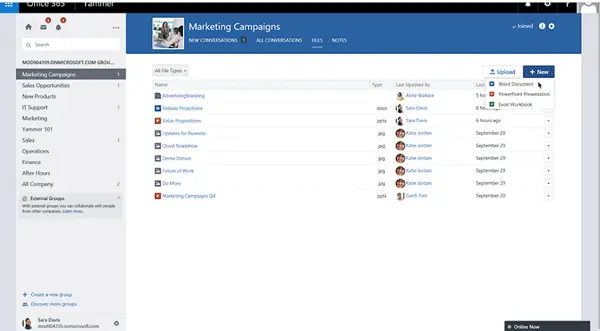 Share Office 365 files with Yammer
Creation of documents directly from Yammer will let users, co-author documents with their colleagues and view version history without having to leave Yammer. Attempts have also been made to make
Attempts have also been made to make the process of sharing files simpler. For instance, the improved file picker lets you browse and share files from your Office 365 SharePoint Document Libraries or personal OneDrive for Business. This means you can take advantage of SharePoint and OneDrive's content management capabilities directly from within Yammer.
Users can now create Office documents such as Word, PowerPoint and Excel and co-author them with their team from within a Yammer group. Additionally, users can easily browse their SharePoint and OneDrive libraries to share files and start discussions with their teams on Yammer. This focus on enabling employees to get work done through deeper integration into the Office 365 suite has led to the fastest annual user growth in Yammer's history. These new features start rolling out today and will be available to all Yammer users in the coming weeks", mentions Office blog.
While the task of creating documents have been simplified to a large extent but the process of managing permissions when sharing documents with a group of people still appears to be a bit cumbersome.
One of the highlights of having Yammer connected to Office 365 Groups is that every Yammer group will exist as an entry in your Global Address List (GAL). As such, you can share and email content from across the whole Office suite directly into your Yammer groups. When a document is shared to a Yammer group, the members of the group are automatically are notified and granted access to the document.
For more, visit Office blogs.