Microsoft has introduced a new sidebar in Microsoft Edge stable version. Users can enable it in Edge options. This new feature in Microsoft Edge will help users multitask smarter and also save their time. Now, users can use the tools and features added to the sidebar quickly even while switching between the tabs. From opening or sending an email to doing simple math calculations, translating the text, and finding the meanings of words, Microsoft has made it simple by adding a sidebar in Edge. Now, you need not open a separate tab for these tasks.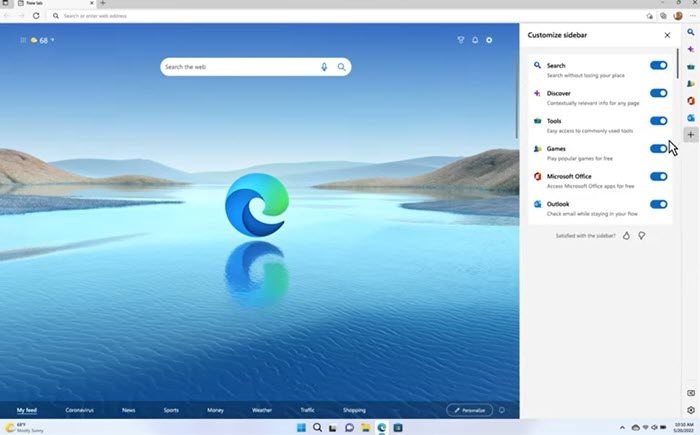 The new sidebar in Microsoft Edge helps users multitask smarter
Currently, Microsoft has added these features to the sidebar, Search, Discover, Tools, Games, Microsoft Office, and Outlook. Microsoft is planning to add more features to the Sidebar in the future till then these features will remain available to the users. Have a look at these different sidebar features:
Search: Now, you can search the web right from the sidebar without opening a separate tab. The Search feature also has an option "This site" that gives you the search results of a particular website.
Discover: The Discover feature in the sidebar will boost your browsing experience by showing you more relevant information about your search and the website that you have opened in the current tab.
Tools: Here, you can access some frequently used tools on the web, like the calculator, dictionary, translation, unit converter, internet speed test, etc.
Games: Previously, Microsoft introduced new gaming features to Edge to make it the best web browser for gamers. With this new feature in Edge, you can access games right from the sidebar.
Microsoft Office: The Microsoft Office pane in the sidebar lets you access your Office apps and documents quickly. It also shows you your recent Microsoft Office documents, including Word, Excel, PowerPoint, etc.
Outlook: The Outlook pane in the Edge sidebar lets you read and send emails without opening the Outlook web app in a separate tab. In addition to this, you can also view and manage Calendar, People, and To Do.
To use this new sidebar feature in Microsoft Edge, you have to update Edge to the latest version. If after updating Edge, the sidebar does not appear by itself, you can enable it in Edge options. To do so, click on the three horizontal dots and select Show Sidebar. Or you can use the Ctrl + Shift + / shortcut to toggle the sidebar.
You can get complete details here on blogs.windows.com.