Imagine what fun it'll be as you snap a picture and it almost immediately appears on a big screen TV! Today Microsoft is adding more value to SkyDrive and Xbox customers with a new SkyDrive app for Xbox 360. This would now mean that your content on SkyDrive would be accessible everywhere – whether you are on the web, your PC, your phone, or now even your big screen TV! SkyDrive team announced the SkyDrive app for Xbox 360 today!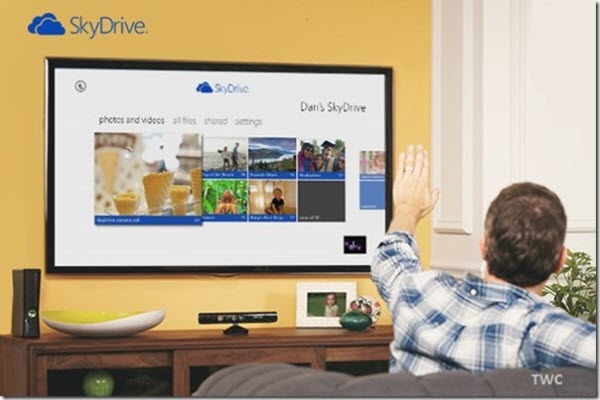 This new app connects the cloud to your Xbox and TV. Every photo, video, movie and other files on your SkyDrive will be available on your Xbox-connected TV. It will provide the SkyDrive experience in your living room.
Let us see some of the main scenarios where it can provide you with a great experience:
Snap & its immediately on TV – As your Windows Phone is also connected to Xbox, every photo you snap can be available on your TV automatically. Take a quick snapshot using Windows Phone and it appears almost immediately in your camera roll on Big Screen TV. You have to only ensure that you are using the same Microsoft account sign-in for both Xbox LIVE and your Windows Phone.
Shared photos & videos – View photos and videos shared by friends and family on your TV. Share an event with your friends or family by viewing photos and videos on your TV.
SlideShow – You can plan a nice slide show playing on the Big screen as you party with your family and friends. Have a nice get together with the slide show playing in the background.
What's more, is that this new SkyDrive app for Xbox, supports Kinect voice controls and gestures, as well as remote and controller input. So you can impress your friends giving instructions with voice commands or hand gestures.
Such feature enhancements in SkyDrive are being added continuously since some time now – and the SkyDrive team has been providing such features on users requests and feedback. SkyDrive usage has doubled in the last 6 months. And with the growth of Windows 8, more and more people are choosing SkyDrive as the easiest way to store and share their photos, documents, and other files.
How to get SkyDrive app on your Xbox
The app can be seen on your Xbox after it goes live after 10AM PST today! Just follow these steps:
Turn on your TV and your Xbox.
Go to Apps, and then select Browse Apps.
In the Social category, select SkyDrive.
So those having Xbox, can give it a try as soon as it goes Live and give us your feedback.
Check out this video to see what the new SkyDrive app for Xbox 360 can do:
[youtube http://www.youtube.com/watch?v=BljInOC_9Js&hl=en&hd=1]