What comes as good news for Linux users, Microsoft has finally announced an update to its outdated Skype for Linux application. The company released the Alpha version of Skype app for Linux client yesterday bringing years of neglect to an end.
Skype for Linux Alpha is a brand new WebRTC version of Skype for Linux. Although the app isn't fully functional yet which means that many features are yet to be added, it certainly brings major improvements over the older version. Here is a look at what's new.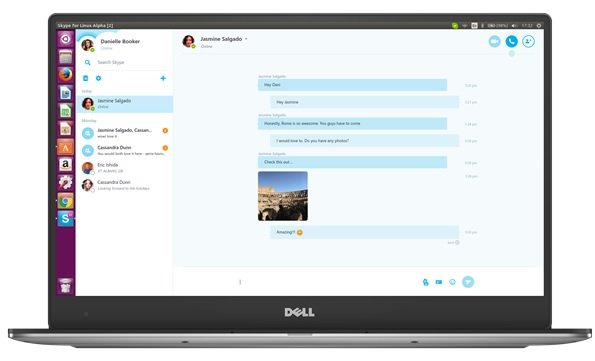 Skype for Linux
The Skype Alpha for Linux client available today brings the latest, fast and responsive Skype UI that has been missing over the years. Linux users can share files, photos, and videos and use a range of new emoticons.
The Alpha version of Skype for Linux, which Microsoft says uses next generation calling architecture, allows users to call friends and family on the latest versions of Skype for Windows, Mac, iOS, and Android. However, users won't be able to make or receive calls to and from the previous versions of Skype for Linux (4.3.0.37).
Skype Alpha for Chromebook or Chrome users on Linux
Microsoft also released an Alpha version of Skype based on webRTC for Chromebook and Chrome on Linux. Users can now access web.skype.com and make one-to-one, and group voice calls along with the messaging features. Apparently, this again is an Alpha version of Skype based on WebRTC and inherits the same features as the Alpha version of the Skype for Linux client.
Microsoft says that it wants to replicate ORTC capabilities on other platforms which are only available on Edge as of now. The company had announced plugin-free calling with ORTC for Microsoft Edge back in the month of April.
The current Skype Alpha for Linux is basic and limited to voice calls between PCs, but, Microsoft says that Video calling and calls to landlines and mobiles are coming soon to Chrome browsers in Linux and Chromebooks.