Angry Birds are now ready for being featured in your Skype chats. Skype is introducing a new set of Angry Birds Movie characters in Skype chats making your conversations even more communicative. The new set includes Red, Stella, Bomb and many more of the characters of the movie.
Being one of the most popular icons, these new Angry Birds help you sharing how you feel about your game loss, your big happy day, a sad break-up or a heated rough day.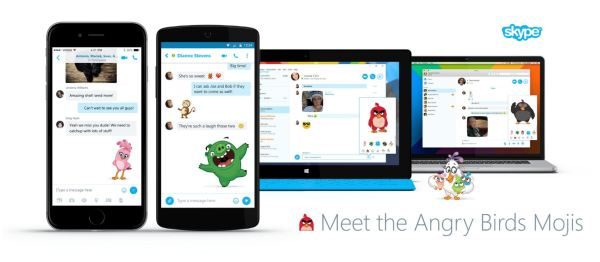 Angry Birds emoticons for Skype
The new animated emojis and emoticons of these characters will start rolling out today and will be made available in your Skype chats in just a few weeks thereby allowing you to get their goofiness, sarcasm, and anger in your chats.
To use these new emoticons in your Skye chats, go to the emotion picker and select the Angry Birds section in the trending tab. Pick your favorite bird's emotions from the store. You need to install the latest Skype apps on your Windows, Mac, IOS, and Android devices to use these newly introduced Angry Birds emoticons.
Skype has always been working on improving your communion with your friends sitting far away. Besides these new emoticons, Skype added calling and chat support for Office Online and OneDrive and added a feature to Edit Documents with co-editors in real-time using Skype last month.
You can also use the Microsoft's Skype app to share photos and files on mobile, change your voice using voice master, send a text message from Windows computer.
Check more about these Skype emoticos at their blog.