Yesterday, Skype celebrated its 10th anniversary. Using the occasion as a launch-pad the Microsoft division announced a new feature – 3D video calls (under development). Plus, it confirmed that every Skype user would get 30 minutes of free Wi-Fi access on any of its two million hotspots as a way to celebrate the anniversary and the success of VoIP platform.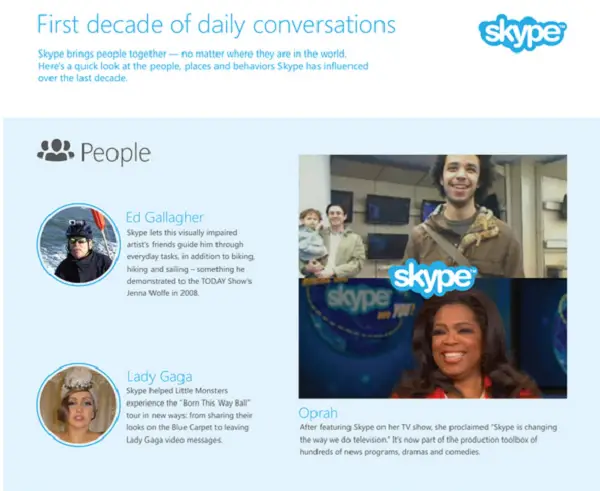 We've done work in the labs looking at the capability of 3D-screens and 3D-capture," said Microsoft's corporate vice-president for Skype, Mark Gillett. We've seen a lot of progress in screens and a lot of people now buy TVs and computer monitors that are capable of delivering a 3D image. It's our anniversary, but you get the present. Each and every Skype user will receive, as of today, 30 minutes (two connections of up to 15 minutes each) of free WiFi at any of our two million Skype WiFi partner hotspots. The offer begins at 12:00 AM on August 29 and ends at 12 AM on August 30," reported blog post.
Skype Debut
Skype made a debut on 29 August 2003 as a simple, free VoIP solution but in 2 years time the service grew more and garnered 54 million registered accounts. Microsoft claims that Skype now has 300 million connected users worldwide.
Initially, Skype started as an internet messaging service offering free voice-over-IP (VoIP) calls to other Skype users, plus instant messaging capability in 2003. Later, in the year 2005, the company was acquired by eBay for approximately $2.6 billion. It was the time when the service also introduced video calls concept.
In May 2011, The firm became a division of Microsoft after the software giant acquired it for $8.5 billion. The division sometime later took over the management of Lync – Microsoft's own VoIP service.
Microsoft has released a new infographic emphasizing the success of Skype claiming that even the celebrities like Lady Gaga, Oprah and Ed Gallagher use the service, apart from regulars.