Outlook.com users wanting to make Skype phone calls without navigating elsewhere should find this news as a delight. Microsoft has announced that its Outlook.com email service would support built-in Skype video calling and messaging functionality.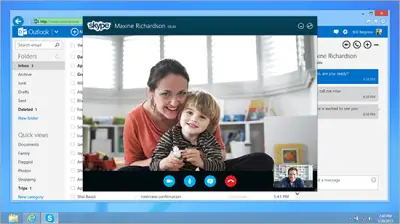 Skype Comes to All Outlook.com North America Customers
"A few months ago we announced that a preview of Skype video calling and messaging was starting to arrive in Outlook.com. Today we are excited to give you an update: Skype for Outlook.com is now fully available in several countries around the globe including the United Kingdom, Germany, Brazil, France, Canada, and the United States," Microsoft stated on the Outlook Blog.
During moments when you want to be able to speak live or chat face-to-face the feature should come across as useful for Skype now allows the connection right from your inbox in few clicks. However, you need o install a plugin before starting to chat face-to-face via video calling.
Once done, all your Skype contacts should appear grouped within Outlook's contact list. The ability to make video calls and start a message conversation directly from Outlook.com only adds to the benefits of the web mail service's features. The browsers supported include Internet Explorer, Chrome, and Firefox.
Microsoft asserts it's still working hard to ensure the same feature is made available worldwide in the near future.