Microsoft today announced the availability of its popular chat service, Skype for Outlook.com worldwide. The announcement came nearly a year after Microsoft rolled out a preview version of Skype to selected markets last year in April 2013 including the US, UK, France and Germany.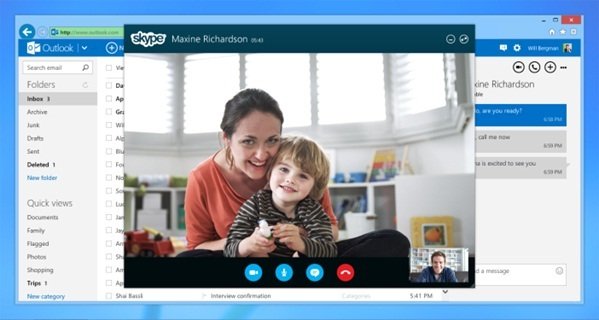 With this announcement, users of Outlook.com located worldwide will have the access to Skype service right from their Outlook.com inbox, and shall be able to switch from an email to a video call with just a click. To access Skype from Outlook.com you just need to download the plugin, link your Skype account to find your friends and start a video call or send an instant message without having to leave your inbox. A Safari plugin is also available so that MAC users can join in too.
Skype for Outlook.com
Through a blog post, Microsoft mentions that the plugin will also support HD video calling for PC users. Karen Tong said,
"We're also thrilled that the version available worldwide today now supports HD video calling* for PC users, so video calls from your inbox are clearer than ever. We know that face to face conversation brings people closer together, and we are excited to make richer and more engaging connections possible".
The latest plugin has also taken care of the ringing issue that users have experienced with calls continuing to ring even after pick-up when they were running the Outlook.com plugin and Skype on their desktop simultaneously. Microsoft says that this glitch has been taken care of.
This integration will not only allow both Outlook and Skype, reach a wider user, base but it also consolidates Microsoft's position against competition like Google Hangout which also offers a messaging and voice service in user's inboxes.