Skype for Web experience brings in the latest version of Skype with all the latest features to the web too. This is possible because the new app is made with ReactXP which brings in a common and shared codebase for the web app as well as other counterparts on other platforms. With this release, users can get a more portable version of Skype on their devices that support PWAs or Progressive Web Apps.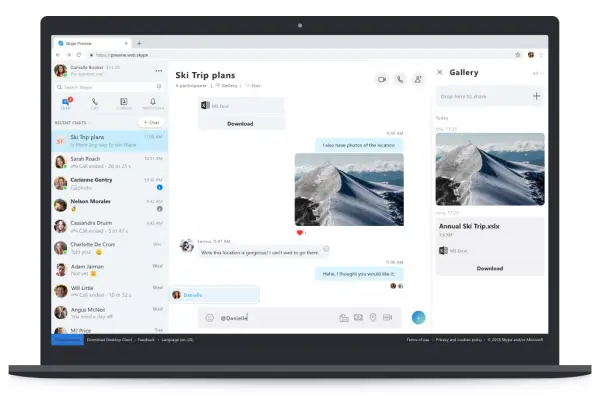 Skype for Web gets new features
As noted, the following new features are now available for this new web experience,
HD Video Calls: Along with call reactions, one on one or group video calls are now supported in HD Quality.
Call Recording: An ability to record important or memorable calls is now available with Skype on the Web too.
Notifications Panel: Even when you are disconnected, all you missed notifications will be instantly available in the all-new notification panel. These notifications include @mentions, quotes and more.
Chat Media Gallery: All the links and other media that you share in a conversation will now be available in a new Chat Media Gallery with an ability to sort these items.
Find within Conversations: An ability to look up for messages in a particular conversation is now available now too.
To use this experience, the user would need to access it using Microsoft Edge or Google Chrome only. And on the operating system side, you need to be either on Windows 10 or Mac OSX 10.12 or newer.
If you wish to give this new web experience a spin, head to the link here. It is worth noting that this new Skype for Web Experience is in Beta and some minor glitches are expected. Microsoft is working hard in the background in making this experience better and better.
TIPS:
Skype Extension for Google Chrome lets you access Skype for Web
You can make Skype for Web work on Firefox using this tip
Skype Meet lets you host free Video Conference Calls; No Download or Sign-Up required.