Microsoft CEO Satya Nadella announced the launch of Skype Lite, a lighter version of their video-calling app, in India at the company's Future Decoded conference in Mumbai. This new app is supposed to a lot less resource and graphic intensive than its original version, as it is supposed to work on lower-end Android smartphones that are abundant in the Indian market.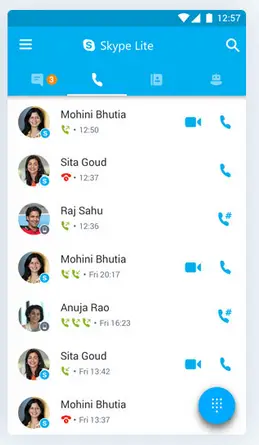 Skype Lite
Skype Lite is already live on the Google Play Store and is exclusive only to the Indian region. It has been designed, over the past year, by the Research team at Microsoft's office in Hyderabad, Telangana. The entire app is less than 13MB in size but packs in all the core features of the Skype app – that is, video calling, group calling, and text messaging. Using compression, the app will manage the quality of the call. It will automatically throttle between HD and SD quality according to the Internet speeds. It works on 2G Networks too!
For people concerned with their Internet usage on the app, Skype Lite also shows the amount of data you've used, including a breakdown of Wi-Fi and cellular data usage, and how much data you've saved by using the Lite version of the app.
Apart from this, Microsoft also announced that they would be integrating the Aadhaar into their ecosystem, a topic that has been discussed with the Indian government over the past few months. It has not yet been tested widely, but this new integration into Skype Lite will help improve identification over video calls. You can request Aadhaar verification by clicking on the option in the call menu. It will then prompt an OTP to the number linked with the particular Aadhaar ID.
"Although Skype has millions of users in India, a large proportion of these are using lower-end phones, not high-end Android or iOS devices. Not only that, although there has been a high-speed 4G rollout in India. You will still frequently find the speeds dropping to 3G or even 2G levels as you're out and about, and these are still used in a wide part of India. That's why we created Skype Lite." said Eugene Ho, Director of Product Management at Skype.
In yet another bid to overturn the default dialer and messaging apps, Skype Lite can be disguised with the two functions – showing all your SMSes along with Skype messages. The Calling tab also differentiates your Skype calls and your phone calls via the carrier.
Microsoft aims to make Skype Lite widely available across different states in India, as a result of which the app has been localized in seven Indian languages – Hindi, Gujarati, Bengali, Marathi, Tamil, Telegu, and Urdu. All conversations are encrypted and secure, as claimed by Microsoft.