"Let's connect with each other", is what the users of Skype and Microsoft Lync will say from now on. Microsoft today announced the integration of Skype and Lync platforms, enabling customers from both the platforms to connect with each other.

With this announcement, Microsoft Lync users will enjoy the global reach of Skype that will allow them to join and work together with suppliers, customers, and partners while trusting on the enterprise richness of Lync. Conversely, Skype users will also reach out to a much broader network of partners and customers who use Lync, thereby ensuring an entry into institutions of varying capacity. Hence both user base will enjoy increased network connectivity.
This Skype-Lync integration comes on the backdrop of the announcement made on 19th Feb 2013, by Tony Bates, President, Skype Division at Microsoft, who said,
"I am excited to outline our vision for the future of communications in my keynote today. It's about re-humanizing communications "from the living room to the boardroom." People are at the center of this vision. All day, every day, we are all simultaneously consumers and professionals, friends, family and colleagues – and our communications technologies need to move between these dimensions as seamlessly as we do".
The Skype-Lync integration will allow users to:
Exchange Skype contacts to Lync and vice-versa
Audio calling and instant messaging between Lync and Skype users( video calls coming later)
Management settings for Lync administrators
How can Microsoft Lync users add Skype contacts
In Lync window, click on the Add a Contact icon, then click on Add a Contact Not in My Organization, then click Skype, and then enter Skype contact information and click OK.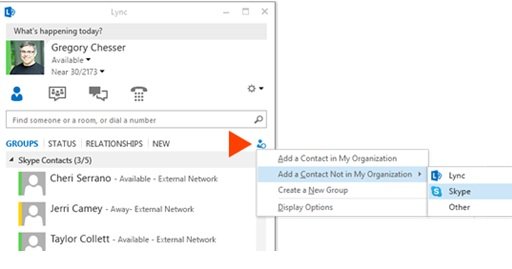 Skype users can add Lync contacts by typing their email addresses into the search bar within Skype and clicking Add to Contacts. Once the recipient has accepted the add-contact request, presence information is exchanged and updated.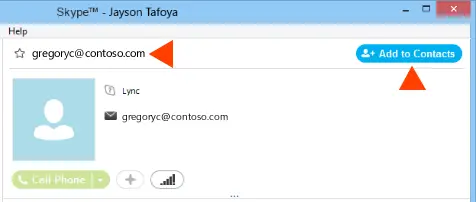 Do remember that, Skype users need to sign in to Skype with a Microsoft account, which can be linked to an existing Skype ID. To know more on how to connect with your contact on Skype or Microsoft Lync, visit here.