Taking cues from the social networking sites like Facebook, Twitter and more, Microsoft's Voice Over Internet Protocol (VoIP) service Skype has made available its own 'Share' button.  Skype team has introduced a new Skype share button for websites, which would make it easier for users to share content and "engage in richer conversations about the content right away.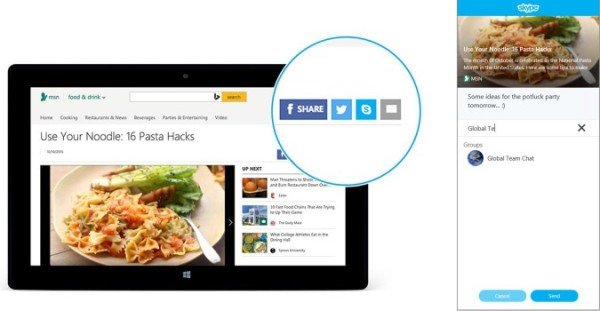 Skype Share Button for websites
You come across various type of contents ranging from a funny cat video to a stunning picture or an insightful article. Somewhere in the midway, you already have a list of friends ready to share content with. So, you start looking for the Share option that you find normally across the web i.e. for websites like Facebook, LinkedIn, Google+, and Twitter and share it. Microsoft too, wants to get queued up there.
The team after exploring different avenues has decided to feature a Skype share button across MSN.com and Sify.com alongside other players. The Skype sharing functionality will not just be restricted to these 2 websites but likely to be extended to other websites too, assuming web developers will add the button to their sites.
The Skype Share button will not be all that different from the Share buttons you find across the web. It will retain the same function of sharing barring one feature – You can add an optional message. You could simply add a line of description to the link before sending. Once you click on the button, a Window will show up on your device screen prompting you to sign in to your Skype account, pick a friend or two to share with, and then hit Send.
The Skype blog reports the website and blog developers could add the Skype share button to their sites by integrating a small code snippet. There are multiple button layouts for desktop and mobiles.
A couple of weeks ago, Skype rolled out chat URLs, making it easier for Skype users to communicate with anyone, even if they lacked an account.