Microsoft's most favored calling product, Skype and the video version, Skype Qik Video App received a new rush of features and updates on Thursday. The popular VOIP, now a full-fledged Microsoft product has new updates for different platforms. Skype updates are for Android as well as the iOS, while that of the Skype Qik Video is for the Android, iOS as well as the Windows Phone, operating systems.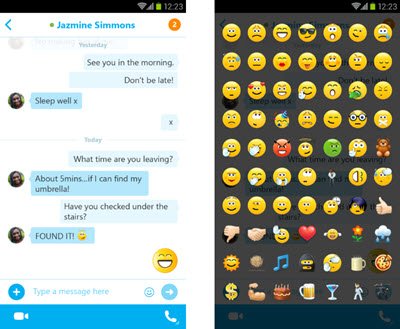 Skype update v5.3 for Android
The latest version of Skype on the Android has what many call, 'major changes' in the chat section. The style layout is revamped to bubble from and is close to the iOS version or the desktop version. Another missing fact on the Android, emoticons on Skype are now available for this operating system as well. Emojis, animated emoticons are to be released soon. As part of the Android Auto, Microsoft offers more for the user. Speech-to-text is now supported on the Android. Active conversation capture is now easier, as the auto-scroll of chats is discarded.
Skype iOS v5.12
For the iOS platform, Skype's latest update supports new languages. There are a dozen new languages added to the suite now and these include many regional languages from Hindi to Malay, Thai, and Catalan, Estonian besides Vietnamese as well as Greek, Slovak and Croatian.
Skype

QiK

Video v1.5 Released
The highlight of the update for Skype Qik, is the eight new video effects. This can be applied from the viewfinder option and for the creative user multiple video effects can also be applied.
Microsoft has added a special icon, 'the magic wand' for the other platforms, Android as well as the iOS to add effects to videos. Windows Phone does not have a magic wand and users have to use the viewfinder to choose the effect they want.