Skype believes in truly changing the way in which its partners engage with consumers. Large scale use of bots therefore has become an essential feature of the service. Bot is piece of software that can execute a digital task which traditionally require human interaction. It has many applications. For instance, it could be used to book hotels, order food, manage your calendar and more. Skype has plans to harness this power of bots for its service.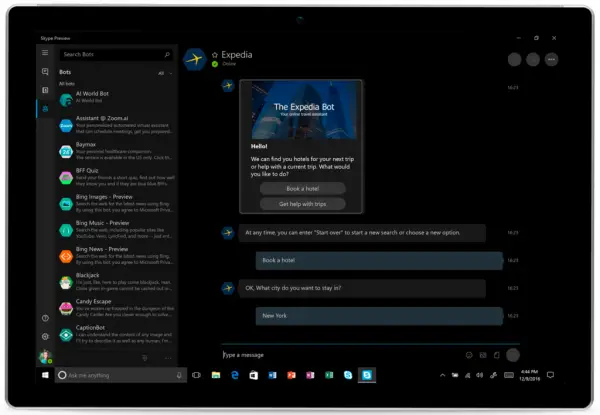 Skype continues to expand its Bot Framework
At the forefront of this push is Skype. Since the emergence of conversational computing we've seen an ever-growing presence of bots. While we're still in the early days of innovation, we believe that we're truly changing the way consumers engage with our partners, mentions a post on Skype blog.

In early 2016, Microsoft CEO Satya Nadella explained that pairing "the power of natural human language with advanced machine intelligence" will enable organizations and consumers to get more done and have more fun. In 2017, that vision—a vision that has taken shape over the better part of two decades—will continue to flourish under Skype, it further adds.
The VoIP service has partnered with Expedia to develop a bot. With it, you can book airline tickets, hotel reservations, car rentals, cruises, vacation packages and other services via the internet, without hassles.
The same courtesy has been extended for shipping space. Combined efforts of Skype and UPS has led to the development of a bot on Skype that can track packages, calculate shipping rates, and find a user's local branch. Besides these,  Skype consumers can ask personalized questions and seek answers for their queries.
Bots also find special attention in education services for customers. As such, Skype, in partnership with Eton Institute and partner company Learningonline.xyz, is progressing rapidly in creating a bot that can teach users a new language.