The messaging app Slack is now available for Windows users. The app supports Windows 7 and higher versions. Released in the year 2013, the Slack app has already been serving the common platforms like Android, iOS, and Mac for years and is also available in Web Versions.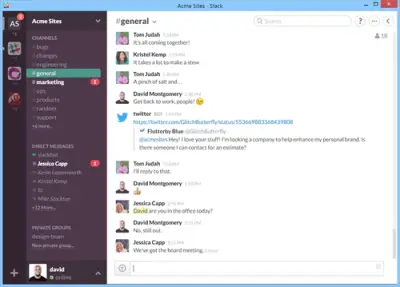 For those who don't know, Slack is a one-to-one messaging app which includes the common chat features like chat rooms, private groups and the direct messaging. Unlike the most common chat apps, Slack integrates with various third party apps like Dropbox, Gooogle Docs, Heroku, GitHub, Crashlytics and Zendesk.
It is a simple app with a very simple and user-friendly interface. One can create a profile, send files, send and read messages easily. It also lets you add emojis to the messages just like the other popular messaging apps. Private groups here are termed as Channels and the messages sent in the channels is visible only to the members added in that particular channel.
Slack App for Windows PC
Slack for Windows is a lightweight app and installs on your PC in real time. The set takes just a few minutes. The app is set for auto-upgrade by default and thus upgrades itself automatically.
It comes with an option of automatic login with the Windows Start up.
When you close the Slack windows, the app will run from the system tray.
The app lights up the taskbar whenever you get a new message, quite similar to the desktop notification.
Slack app is also available for the Windows 10 Technical Preview. The Lite version of Slack is free, but other levels – Standard, Plus and Enterprise are available for $6.67, $12.50, and $49.99 per month respectively.
Download the Lite version of Slack app for Windows and start adding your co-workers, family and friends.