In a blog post yesterday, one of the Microsoft officials announced that the 30-year-old SMB1 file-sharing protocol will now be disabled by default on systems, running the most recent versions of Windows 11 Home Dev Channel, Windows, or Windows Server that were previously shipped with SMBv1 enabled.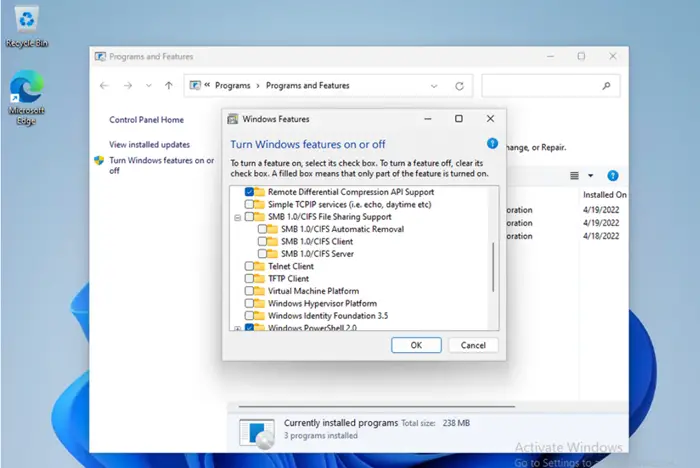 SMB1 will now be disabled by default for Windows 11 Home
The software-giant first revealed its plans to disable SMBv1 in Windows in June 2017 following its discontinuation for internal versions of Windows 10 Enterprise and Windows Server 2016.
Home and Pro editions of Windows still supported the client so users could connect to many third-party NAS devices that only supported SMB1.
If you install a Windows Insider Dev channel build in any variant of Home Edition, the SMB1 client isn't installed. This means there is no edition of Windows 11 Insider that has any part of SMB1 enabled by default anymore. At the next major release of Windows 11, that will be the default behaviour as well. Like always, this doesn't affect in-place upgrades of machines where you were already using SMB1. SMB1 is not gone here, an admin can still intentionally reinstall it, wrote Ned Pyle in a blog post.
The description on the page also underlines that Windows and Windows Server will no longer include the drivers and DLLs of SMB1. Many users already know that newer versions of SMB protocol do not have any additional security enhancements. As such, it makes no sense to use it. Also, Microsoft will remove the SMB1 binaries in a future release.
In short, SMB1 is outdated and thus, not very secure. This poses a threat to the security of the systems. A few years ago, the Microsoft Exchange team had also urged administrators to disable SMBv1 to protect servers against malware attacks.