Snapchat has always been criticized for not releasing Snapchat for Windows platform. Even when Microsoft announced UWP to make a developer's experience easier to build a Windows 10 app, or when they announced app bridges to port iOS applications directly to Windows 10 platform, Snapchat did not bother to build an app for the UWP Platform. It is often referred to as one of the reasons why Microsoft's Windows Phone strategy did not work well and was discontinued. But lately, Snapchat has been in high crises. Their userbase is falling mainly because of Instagram. Instagram is a dominant player offering the same features. Snap is, therefore, expanding on the basis of its strengths.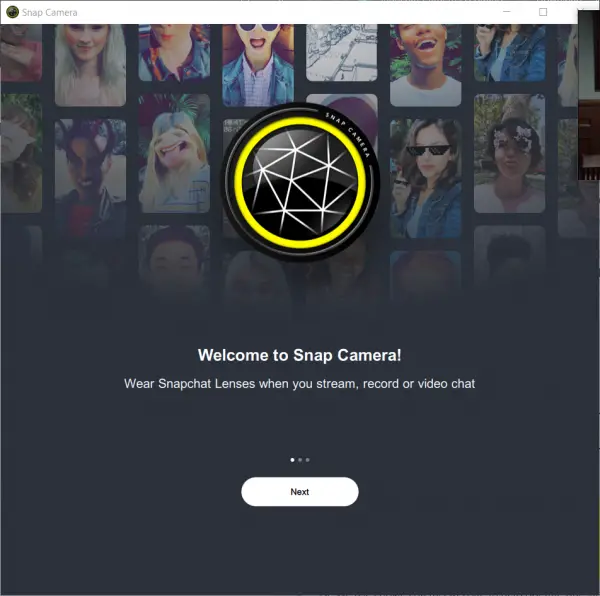 Snap Camera for Windows
The software released is called as Snap Camera. And it requires the following System Requirements to work:
Operating System: Windows 10 (64 bit); MacOS 10.11+
Hardware: Minimum of Intel Core i3 2.5Ghz or AMD Phenom II 2.6Ghz with 4 GB RAM; Intel HD Graphics 4000 / Nvidia GeForce 710 / AMD Radeon HD 6450; screen resolution of 1280 x 768 or higher
This software is aimed to empower gamers mainly. It works as a camera input software, and the gamers can use any of Snapchat's face filters. This can be done while live streaming or during video calls just to add a little fun to the conversation. There is no relation to productivity here and is intended for some fun stuff.
It is worth noting that Posting or viewing Snapchat stories is not yet here and is not expected to arrive with this product at all. Also, it is available for MacOS as well.
If you are interested, you can download the latest version of Snap Camera from here.
It is available for totally free of cost and offers you a high number of fully free Snapchat Lense right there. You can also set a hot word for a particular filter to access it faster whenever you need it.