Microsoft So.cl, pronounced as 'social', recently received a facelift. People via Socl have been discovering a new way to express and share their ideas through rich post collages comprised of images, links, captions and videos. The service has come up with its new offering – Collections. Collections are personally curated sets of posts. They give users a more personalize way to curate their content.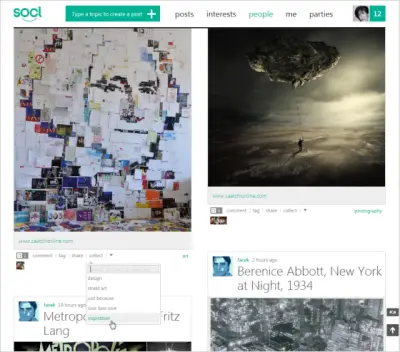 Creating Socl Collections
Creating Collections is a simple process. Simply:
click on 'collect' at the base of any post
give the collection a name (or add the post to one of your existing collections)
view your collections from your Me page
you can create as many collections as you want. You can also follow those created by others.
You can create as many collections as you like, and of course you can follow collections created by others. You're the curator! What will you collect today? We can't wait to see…and as always, let us know what you think, says Microsoft Fuse Labs.
Recently, redesigned Socl was rolled out. It incorporated new changes in large part due to feedback received from unhappy members of the Socl community. The latest change highlights a few of the more notable changes.
Personally, I feel collecting your best images from loads of posts and keeping them organized via such features is best way for sorting out most of your worries. The new change would surely give Socl an edge over other networking sites such as Facebook and Twitter.
Till then, Happy Social Searching!