Microsoft Solitaire, the game that has been played by Windows PC users for the last 25 years is now available on iPhone, iPad, and Android devices. Arguably the most popular game from Microsoft, Solitaire, comes as a pre-installed app on Microsoft's operating systems and has been played since 1990.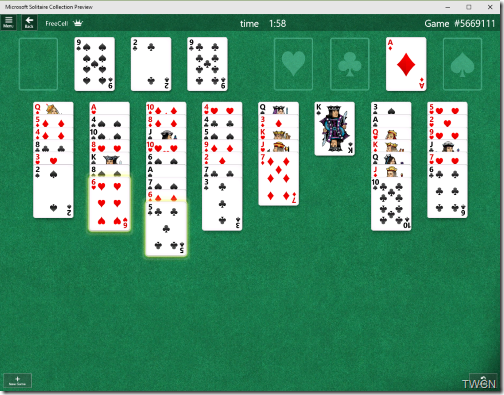 Microsoft Solitaire game for iOS & Android
Solitaire was first bundled with Microsoft's Windows 3.0 in the year 1990. The game was developed in the year 1989 by intern Wes Cherry and the card deck was designed by Macintosh pioneer Susan Kare. From the pre-internet era until today, Solitaire has remained a popular choice for the Windows PC gaming enthusiasts.
In Windows 10 and Windows 8, Microsoft has included the game under Microsoft Solitaire Collection and as the company claims, it has reached more than 119 million unique players in the last 4 years. Microsoft is now offering the game as the new mobile app for iPhone, iPad, iPod touch, and Android users as a free download.
As Paul Jensen writes on the Xbox blog, the new Solitaire app includes five games that you can play for free, they are,
KLONDIKE Timeless & Classic Solitaire – Clear all the cards from the table using one or three-card draw. Also try out Traditional or Vegas scoring!
SPIDER – Eight columns of cards await you. Clear them all with fewest moves possible. Play single suit or challenge yourself with four suits!
FREECELL- Be strategic and use the four extra cells to move cards around and try to clear all cards from the table. FreeCell rewards players who think several moves ahead.
TRIPEAKS – Select cards in a sequence, earn combo points, and clear as many boards as you can before you run out of deals!
PYRAMID – Combine two cards that add up to 13 to remove them from the board. Challenge yourself to reach the top of the Pyramid and clear as many boards as you can!
The new mobile app also includes daily challenges for all the above five games with considerable solvable challenges and rewards. Also, with Xbox Live integration, you can earn Xbox live achievements and Gamerscore while playing on any Windows 10, iPhone, iPad or Android devices. Game progress is saved in the cloud allowing you to resume where you left.
Microsoft is currently offering players of iPhone, iPad or Android a free month of Premium edition ($1.99 value) until December 31, 2016. Hence, you to play without ads along with games boosts and double coins.
Click here to download Microsoft Solitaire Collection for iOS while Android users can download the game here.