Speedtest, the most popular connectivity speed tracking service, now has a new address on your Windows 10 PC. The developer, Ookla, has launched a new app on the Windows Store for Windows 10 PC users.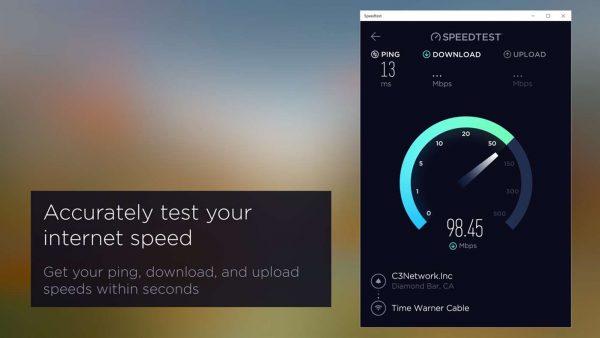 Speedtest app for Windows 10
This speed testing software has had a Windows 8.1 PC app for a couple of years now, but the lack of a Windows 10 app perturbed users who had been on the new OS for the past 12-13 months.
Version 1.0.41.0 of Speedtest is now available for PC on Windows 10. While the app is yet to go live on Windows Phone, the interface and screenshots make it clear that it is developed with the mobile orientation in mind.
Talking about the upgrades in the app, it now has clear, bold fonts, and an easy 'Go' button that tests your Ping, Download, and Upload rates along with a history of your tests.You can also easily share your results with the Windows Share Picker to push to other apps like Outlook or Twitter.
There will be ads on the free version but you can pay a premium to get the paid version of the app, which is available without ads.
Even though the app does not have any additional features, it does the main task very well, better than most of the other internet speed testing apps on the market. There is no update as to when the app will be released on Windows 10 Mobile, but it is speculated that it is coming soon enough . There are anyway only a few titles there and Speedtest.net will be a welcome addition to the category.
It is available here in the Windows Store.