A Reddit user has discovered that we can now spin the cogwheel gear in the new Notepad app on Windows PCs. This is oddly satisfying and delightful much like the stress spinner rings that came into highlights a few years back.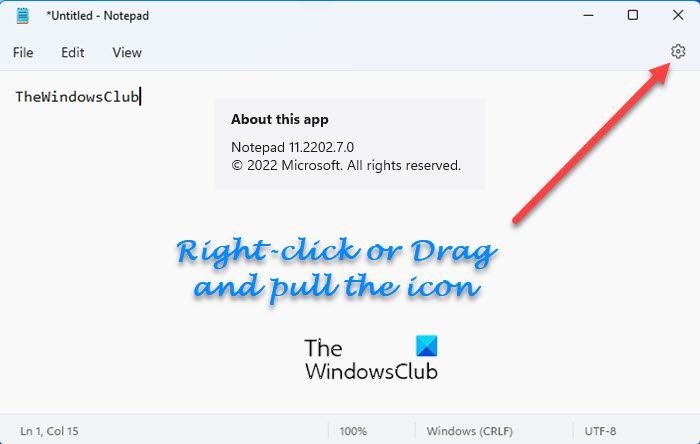 Notepad in Windows 11 lets you spin the Settings cogwheel
The spinning gear on the Notepad app is actually a small animation added by Windows and the reason probably should be Easter. We all know that Microsoft loves setting the Easter eggs and this could be just one of those.
The latest build of Windows 11 is here and this is where this spinning gear comes from. We could see it on Windows 11 21H2 Build 22000.556, Notepad v11.2202.7.0.
Watch the short video below.
Earlier this month we also read about another Easter egg set by Microsoft wherein we saw the emojis while creating a new Folder or Path in the Registry. Also, another Windows 1.0 Easter Egg was discovered after 37 Years. 
So now we know how good Microsoft is at setting these interesting Easter Eggs. This spinning gear on Notepad and the new Task Manager UI will certainly be loved by the users. I myself have been spinning the cogwheel ever since I came to know about it through Reddit.
Do write us in the comments how do you like this cute little Easter egg that Microsoft has planned for you. Also, we would love to know if you have ever discovered any Easter eggs on your Windows 11 PC.