Attackers are more interested in your personal data than anything else. Researchers discovered that the number of attacks on users' personal data had increased exponentially. There is no sign of relief either as the cyber-attacks are increasingly becoming more advanced than ever before. These days, attackers keep coming up with new techniques to invade your online privacy and benefit from your private, sensitive data.
Since we are on the topic, Kaspersky has released a new report titled Mobile Malware Evolution. The report sheds some light on various factors that have contributed to the rising number of attacks on users' personal data in 2019. One of the main highlights of the report is the rising frequency of attacks on users' personal data, courtesy of the growing number of Stalkerware-related mobile apps.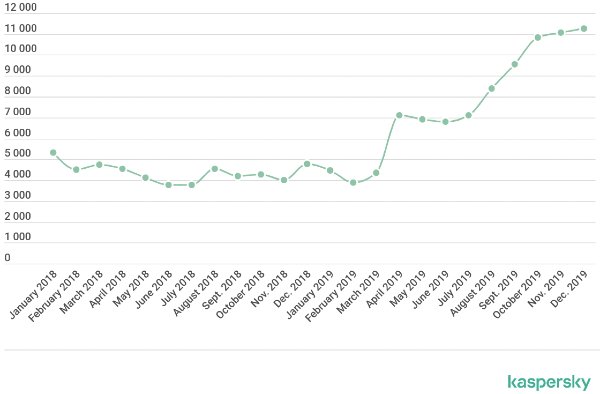 Stalkerware apps are consistently on the rise
In 2019, the number of users affected by attacks on their personal data reached 67,500 in 2019. Meanwhile, the number of users affected by such attacks in 2018 was 40,386. In what could be even more surprising, these attacks were not carried out by traditional techniques like Spyware or Trojans but Stalkerware! See the statistics below:
Researchers have further explained that Stalkerware primarily belongs to two major categories of smartphone apps: Trackers and Apps that enable full-fledged tracking.
While the primary focus of tracker apps is to track victims' coordinates and intercepting text messages, full fledge-tracking apps behave more like commercial solutions that enable extensive spying. Thankfully, no such extensive spying apps seem to be readily available to download for general users. However, it's always recommended to be careful when it comes to installing less trustworthy or suspicious mobile apps.
Kaspersky malware expert Victor Chebyshev warns Stalkerware issue could become more serious in 2020:
"Also in 2019, attacks involving the use of mobile stalkerware became more frequent, the purpose being to monitor and collect information about the victim. In terms of sophistication, stalkerware is keeping pace with its malware cousins. It is quite likely that 2020 will see an increase in the number of such threats, with a corresponding rise in the number of attacked users."
Google constantly keeps a check on suspicious app activities on Play Store and actively cracks down on potentially troublesome apps. Towards the end of 2018, Google brought some serious policy reforms to Play Store. Eventually, this led to the removal of many Stalkerware apps. However, trackers can still be found on many other untrustworthy, third-party websites.