Microsoft has released a Facebook app that lets you dig into your social life. Named Shovel, the app scan your Facebook profile and presents you with an interesting visual that show you what you have been doing on Facebook.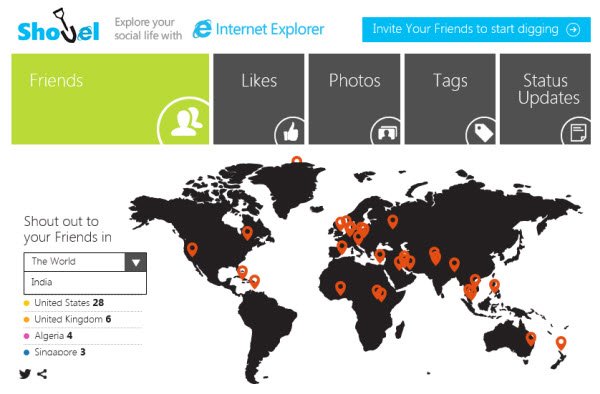 Said the Internet Explorer India team:
We all love digging. Some for gossip, some for old forgotten memories and some for evergreen stories. So while we're at it, why not dig into your social life as well! Presenting the all new Shovel App – your chance to find out everything you've been doing on Facebook, re-imagined with Internet Explorer.
When you allow access to the Shovel app, it will scan you Facebook profile and in a few seconds present you with a visual that will show you where your Facebook friends are from, the age-profile, the youngest and the oldest friend, your Likes, Photos, Status Updates, Average Likes your photos get, your Updates which got you the most Likes, Friends who love to Like, those  who have never Liked your update, Friends whose updates you like to Like, and so on.
The Shovel App has been designed to work best on the fast, fluid Internet Explorer 10. Go check it out – I think you will enjoy digging into your Facebook life!