Microsoft just released the Windows 10 October Update, and with that came in a lot of features. Another thing that was released on Windows 10 was a major update to the Sticky Notes UWP. This was the version 3 of the Sticky Notes app. Now, being a major update, it had a major highlighting feature. This feature was about Sticky Notes being connected to the Cloud. With this power of the Cloud, your notes on a particular computer can sync across devices where Sticky Notes v3 or newer was installed and signed in with a common Microsoft Account.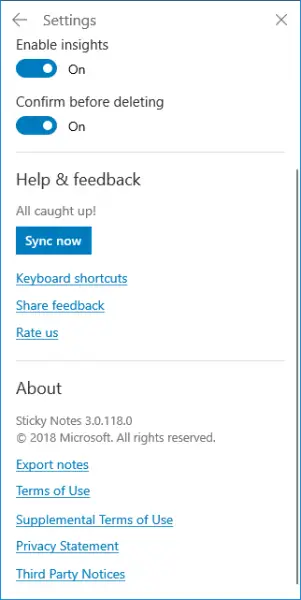 The power of Cloud and mobile devices being a companion of the PC, Microsoft has decided to bring this power of Sticky Notes' Cloud Syncing capabilities, Microsoft is bringing the support of syncing capabilities to Android and iOS devices as well. With a very recent update to the OneNote Beta app for Android Mobile Phones, users can see their Sticky Notes across from their Windows 10 PC running Sticky Notes v3.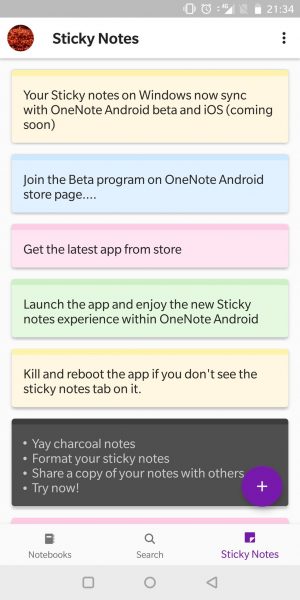 This feature was spotted by some sharp eye users and was later confirmed by Laura Butler, Microsoft Vice President and Technical Fellow on Twitter. She said,
"Erm, this isn't fully in production yet. But since the cat is out of the bag, yes you want to get OneNote for iOS or Android to access Sticky Notes on your phone. More details as well as a bunch of awesome features across the modern OneNote apps are coming soon…"
It was also confirmed by the official account for the Microsoft Android Apps in their Google+ community here. This seems to be a decent feature addition to the OneNote application for Android and iOS devices.
If you wish to use the same feature right now, you can download the latest Beta for OneNote Android from Play Store here. Make sure that you scroll down and sign up to become a beta tester first. If you use an iOS device, you can sign up to get the latest iOS TestFlight for OneNote from here.