After unveiling Surface 2 yesterday, Panos Panay, Corporate VP of Surface along with Julie Larson Green and his team of engineers and designers involved in design and development of Surface were on  Reddit AMA and answered different queries and shared some insights into what's new in Surface 2 and Surface 2 Pro. Here are some of the very interesting Questions and their Answers straight from the Surface Team.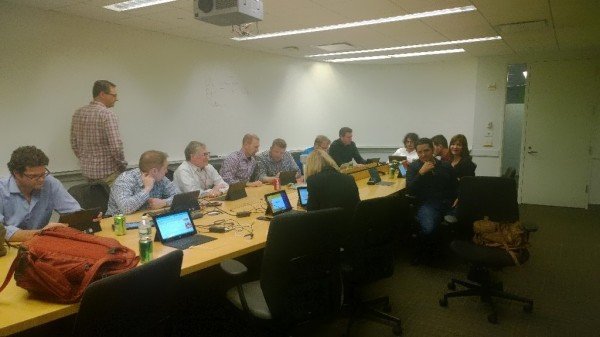 Q: Any news on a potential trade-in scheme for current Surface RT/Pro owners to get money off the new devices?
A: We're very happy you're interested. we'll definitely discuss options w/ the MS Store team. we really don't have anything lined up right now though. I know that's not the answer you wanted… but we'll be back after we investigate options more.
Q: Please tell me that the power connector is easier to connect in these 2nd gen Surfaces?
A: The answer is Yes. We spent a lot of time redesigning the profile of the connector, the part that you hold with your fingers. We designed it so it is much easier to position and insert it. We also redesigned the LED on the connector such that you can see its indicator from every angle.
Q. What's the usable Storage available on Surface 2 and Surface Pro 2 ?
A: Several questions on usable storage:
Surface 2
32 GB , 18 GB free
64 GB, 47 free
Surface Pro 2
64GB , 37 free
128GB, 97 free
One can Free up additional space by creating USB recovery key.
Q: Loving the docking station finally coming out, it appears that it slides open and shut to allow the device to "drop" into the dock, is that correct?
A: The docking station comes with a power supply that will charge your Surface Pro/Surface Pro 2. It does slide open and close to hold your Surface Pro.
Q: Will the Surface 1 pens and chargers still work with the surface 2?
A: Capacitive passive pens that worked on Surface RT will work on Surface 2. The active pen on Pro will work on Pro2. The chargers work across the whole product line, gen 1 and gen 2!
Q: Do the new keyboard covers' touchpads support "Precision Touchpad" functionality that I've heard about in Windows 8.1?
A: Yes!
Q:  Does the Pro 2 support Intel WiDi? or any other wireless display functions? Or can you make something like the Chromecast for Surface please.
A: Miracast.
Q: Will there be any improvements to the Wacom tech on the touchscreens and what does the MS team think of people using Surface Pros for digital art?
A: Per the touch and pen digitizer, Pro has been a favorite for people doing digital art, where they need an accurate pen with pressure. For photoshop you have to download the Wacom wintab drivers to get pressure (Wacom.com/feeldriver). FreshPaint is a really cool app for digital art and creation as well. One of the biggest things we have done to help improve the pen scenarios on both the pro and pro2 is minimize the parallax between the pen tip and the image on the screen. Pro and Pro2 have one of the shortest physical parallax of tablets and PCs. This puts the pen tip closer to the image and thus helps you draw more accurately. We took a multiprong approach for pen: low latency, low parallax, hover, pressure, and a unique calibration… the combination gives artists a great pen for art and other pen scenarios.. this continues.
Q: Why are you still ignoring Intel Atom CPUs? New Intel Atom CPU codenamed Bay Trail outperforms almost every single ARM SoC out there, so what's keeping you from creating perfect $449 Surface that has all bells and whistles of the current ARM based Surface 2 PLUS ALL THE COMPATIBILITY with an ocean of x86 Windows applications?
A: We don't ignore. Intel is a great partner to us, and we continue to look at all roadmap options to bring you the best products possible. We are excited about the current products, and we think they meet the needs they were designed for. We will continue to evaluate options for the future.
Q:  We see a lack of NFC, WiFi 802.11ac, and the usage of Intel HD Graphics 4400 instead of HD Graphics 5000 … there are some explanation to not put this new's technology on this new line of devices?
A: The HD4400 has great performance for the power drawn. We put in dual channel memory for extraordinary PC Mark benchmark scores. We have options for high capacity SSDs up to 512GB. We also have best-in-class 802.11n performance.
Q: Did you add F1-F12 function name to the first row of Touch cover 2?
A: They have always been there 🙂 they were just hidden.. Hit the Fn key and hit the corresponding key. They were just not labeled.
Q: Will we see more types of attachable covers later? May be SmartGlass cover for easier Xbox remote control and gaming?
A: With Touchcover 2 we moved from 80 pressure sensors, to 1092… this did 3 things. 1) improved typing accuracy cause we can catch the hits between keys (think centroid for your key press), 2) the high resolution also increased sensitivity of the touchcover so you can type faster but it I still safe to rest your hands on the keyboard without falsely actuating keys, and finally 3) it enables gestures (swiping across the keyboards etc..). This unique digitizer platform we built can enable a number of different blades and unique interactions. We are super excited about the possibility. ToucCover2 is basically a really big pressure sensitive touch pad. It can sense your hands, it is super fast (picking up all the transient interactions that happen on a millisecond level)… the surfaceremixproject is just the beginning. 🙂
Q: Is Haswell fanless?
A: No, but it will run cooler and quieter than the previous gen. The Surface Pro 2 does have 2 super quiet fans. We use the fans to maximize the performance of the platform.
Q: Which Intel HD model is in the Surface Pro 2?
A: HD4400.
Q: Here's an interesting idea about the 'blade' which I think we all would love if you could implement 🙂 Under the touch surface is some type of oled screen that can show different keyboard layouts for different software. Really, it's like a lightweight touchscreen. or an E-ink screen.
A: Very cool idea. We have all sorts of prototype blade concepts. If only you could come into our lab. 🙂
Q: Does the Surface 2 support the use of the stylus (i.e. does it has an active digitizer?
A:Surface 2 does not have an Active Pen, but you can use a passive capacitive pen.. OneNote and other pen supported applications, e.g. fresh paint, the other office apps, all will work nicely in this scenario.
Q:Will both SKUs support the Wireless Display feature (i.e. Miracast) in Windows 8.1?
A: they will have the SAME miracast support
Q: How bright does the Surface display get?
A: 400 nits.
Q: Thanks for Surface Music Kit , how did you come with this concept , and will you let Third Party Apps flourish with it , also any more accessories we need to keep an eye on .
A: We always dreamed of extending the Surface platform using the blade interface. We created it with this concept in mind from day one. Glad you like it… keep an eye out for more.
Q: Will the Dock Station work with a 1st gen Surface Pro? I would be really interested in this for the Surface Pro I have at work!
A: Yes 🙂
Q: does the Power Cover have backlight?
A: Great question!!! Power cover does not have a backlight. But it has a 31.5 Whr battery and will charge your device while it is in your bag.. Pretty awesome. The backlight is on both the Typecover 2 and Touchcover 2!
Q: So in Gen1 the type was only in black and touch were in colors, it looks like on spec sheets that touch 2 is only black, while type 2 is in colors, is this right?
A: That is correct. There are 4 colors for Type Cover 2, and Touch Cover 1 is in black. However, generation 1 Touch Covers will stay in market for $79 and continue to offer a selection of colors.
Q: What kind of battery life will we see with the Surface 2 (not Pro) coupled with a Power Cover?
A: Surface 2 will have approx. 20% more battery life compared to the original Surface. With Power Cover, you can expect double that. We are extremely confident in 17 hours. generally crazy long. cool thing too is that the cover charges the device, so you could plug it in, use for a while, and then unplug after it fully charges.
Q:  I want to ask if you guys has been testing Power Cover on the 1st gen Surface Pro and see how much improvement it brings for the Ivy Bridge.
A: We expect around 50% improvement in battery life for 1st gen Surface Pro with Surface Power Cover.
Q: My #1 complaint about my Surface: Volume is WAY too low. Have you fixed this in a meaningful way with v2?
A: Yes we have! Both Surface 2 and Surface Pro 2 have new enhanced speakers and Dolby built-in for a better user experience.
Q: How are you working with marketing to explain to consumers that the non-pro is lacking much functionality that has come to be expected of the "Windows" brand  like SkyDrive syncing files to a folder named "SkyDrive" in Desktop's Explorer etc
A: Good news is skydrive works for offline sync with Windows 8.1. go install it on your surface RT if you have. you'll like. with Surface 2 you get 200GB of cloud storage too so will work really well.
Q: How does the power cover gets charged?
A: The Surface device routes power to the Power Cover from the power adapter. Circuitry in the device can charge both the battery in Power Cover and the battery in the device simultaneously.
Q: So, if I understand correctly, the Surface device has to be connected to the Power Cover and the power adapter in order for the Power Cover to charge?And that you can't charge it separately?
A: Correct.
Q: I was wondering if it would be possible to replace the CPU in the current Surface Pro with the Gen 4 core i5 being used in the Pro 2.
A: To get the full benefit, it's not just a case of switching out the CPU. For Surface Pro 2, we complexly redesigned the motherboard, performed system level tuning, upgraded to LPDDR3 RAM & low power SSD, and tuned the firmware and drivers.
Q: What kind of wifi-N? Is it 5 ghz wifi N? MIMO 2×2? 4×4?
A: Both Surface 2 and Surface Pro 2 support 802.11a/b/g/n and 2×2 MIMO. 2.4G and 5G are supported for 802.11n.
Q: Specifically, which i5 processor will be used with the Surface Pro 2?
A:Intel Core i5-4200U
Q: How come the MacBook Air can run for over 10 hours with a corei5 and surface can't?
A: The 13″ MBA has a 54Whr. Surface Pro 2 has a 42Whr battery. We do this to balance thickness and weight with performance. With Power Cover, which has a 30Whr battery, you will get comfortably more than 10 hours.Worth adding, that MacBook air is lower screen resolution and lower DPI..
Q: Do we get POP3 in Outlook on RT yet? Don't bother to try selling me IMAP. I need POP3 for RT to be something I can put people in.
A:Office Outlook for Windows RT supports POP, IMAP, Exchange, and Outlook.com email protocols.
Q: I still don't see any GPS option. I have a lot of enterprise customers who would find great use of a Surface tablet with GPS built-in. Especially now that you're adding an LTE version, this could be huge for in-field workers, but GPS is a requirement.
A: We didn't talk about it today, but Surface 2 will be launching an awesome LTE SKU early next year! LTE version will have GPS.
Q: How the hell did you get the touch covers so thin and still support back lighting in addition to the pressure sensors and everything else?
A: We invented one of the thinnest backlights.. It is 0.2mm thin.. backlights are not supposed to work being that thin!! but we made it work. The light couples in via edge lit LEDs really small ones.. (4 of them), guides the inside the layer via a principle of total internal reflection and then scatters out via light couplers. To save power we also added a proximity sensor to the keyboard so when your hands get near they turn on. All this and both touch and type are thinner than previous gen and it is also more rigid. We made these keyboards more rigid by gluing all the layers together… essentially taking really thin layers, laminating them together and making the whole thing really rigid.
Q:The new accessories show a Surface version of the Arc mouse. Will that be Bluetooth?
A: Bluetooth!
Q: The new dock is awesome!!Will it work with 1st gen pro?
A: Yes, it'll work with both Surface Pro and Surface Pro 2. 🙂
Q: Why not i7 for the surface 2?
A: i5 is a great choice for the form factor.
Q: Why does the surface only have one 'kickstand' position?
A: There are two now.On both – Surface 2 and Pro 2.
Q: It would be nice to have a caps lock indicator
A: There is on the new Touch Cover 2 and Type Cover 2.
These were some of the very interesting Q&A session on Reddit AMA with the Surface Team. They have cleared lots of doubts users had in mind about these New Surface, and also explained some of the amazing technologies involved in it.