The newly launched Surface devices – Surface 2 and Surface Pro 2 have now finally hit the online, and brickand mortar select 3rd-party retail stores. Alongside the devices, handy accessories like Type Cover 2, Power Cover, Wireless Adapters, Car Chargers and a few more utility tools have become available for purchase as well.
Surface 2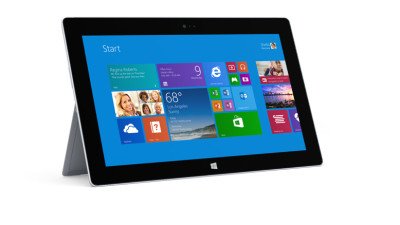 Surface 2 is supposedly the successor of Surface RT tablet. It is a 10.6-inch tablet running on Windows 8.1 RT, and is powered by the monstrous NVIDIA Tegra 4 processor. The high spec processor makes the device faster, as well as extends the battery life by 3 times. The device showcases ClearType Full HD display which is capable of playing 1080p videos. They have upgraded the USB 2.0 ports to USB 3.0 which supports 10 times faster data transfer. The device comes with two cameras, the front has a 3.5 megapixel camera, whereas the rear sports a 5 megapixel camera. Both the cameras are capable of capturing 1080p videos, and features low-light performance.
The device comes in two variants categorized with their storage capacities. The 32 GB version costs $449, whereas the 64 GB version costs $549. Both the devices can be purchased from here. 
Surface Pro 2
The premium version Surface Pro 2 is the next generation version of Surface Pro. The device runs on Windows 8.1 and includes productivity suite Microsoft Office. Unlike Surface 2, it is powered by a fourth generation Intel Core i5 processor, which allegedly provides 75% extra battery life. The device comes in 4 variants, with 64 GB and 128 GB versions housing a 4 GB of RAM, and 256 GB and 512 GB versions housing 8 GB of RAM. You can pick your choices and make the purchase from here.
Accessories
Alongside the devices, many new, and improved accessories have also become available for purchase . The new accessories that have arrived this time around are Type Cover 2, Touch Cover 2, Power Cover, Ducking Station, Wireless Adapter for Typing Covers, Car Charger with USB, Arc Touch Mouse Surface Edition and more. You can find all the devices and more information about them here. 
Interestingly, many accessories including Touch Cover 2 have already gone out of stock. So giddy up and make your purchase soon!