Yesterday, Microsoft held an event in New York City, where they announced a bunch of new refresh for their hardware devices. They announced the Surface Studio 2, the Surface Laptop 2, the Surface Pro 6 and the all-new Surface Headphones. As they announced a bunch of new devices, they also announced the Surface All Access program by participating in which, users will find it easy to purchase these devices and services together.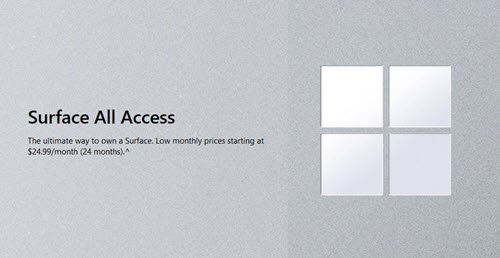 Surface All Access program
Under this program, users will be able to purchase their favorite Surface devices and accessories along with Office 365, a dedicated support and Microsoft Store benefits. This will cost them a minor monthly payment of fee starting at $24.99.
It is currently only available in the United States. You can just walk into a Microsoft Store in person in the United States to start purchasing new devices under this program. This will be in effect starting October 16th, 2018. The payment is to be done consecutively for 24 months.
Under this program, the Surface Go Bundle will come along with a Surface Go, Type Cover and Office 365 and will start at $24.99 per month. The Surface Book 2 with a customized choice of Office 365 will start at $54.96 per month.
It is powered by Dell Financial Services.
For the reason to get this Surface All Access Program, Microsoft says,
"Surface All Access makes it easy to start working right away with your Surface, accessories, and Office 365 subscription—with one low monthly price for 24 months, world-class protection, in-store training, and dedicated customer support. And since your Surface All Access plan now comes with Office 365, you can start working smarter with the latest versions of the productivity apps you rely on every day."
You can learn more about it or proceed with getting a device under this program here.