The bigger, the better! The meaning of this proverb is converse to that of "Good things come in small packages." You use this proverb to say that if something is bigger than others, it is better. That's what Microsoft Surface Book 2 is all about.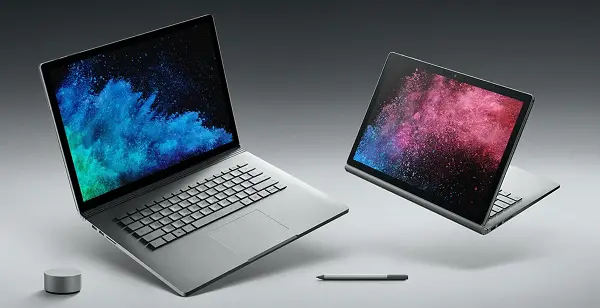 Microsoft Surface Book 2
The 15-inch Surface Book 2 is bigger and heavier to handle with a detachable screen and a very laptop-like keyboard dock. Introducing the sequel to an official Windows blog post, Microsoft Surface chief Panos Panay said that it happens to be one of the most powerful Surface laptops yet.
The product is sports sturdy and smooth metal cases and runs the latest 8th Gen Intel Core processors under its hood. On the performance side, Surface Book 2 promise battery life numbers that are sure to impress Windows lovers – 17 hours (Disclaimer – the number only applicable for continuous video playback). Also, the keyboard deck has been slightly upgraded to give it cleaner lines.
Apart from the above, it has a stronger hinge that holds the device tightly but allows easier removal of the displays attached to it.
Surface Book 2 ships in 2 sizes,13-inch and 15-inch size. Both weigh 3.38-pounds and 4.2-pounds, respectively that's comparable to its arch-rival Mac Book Pro. Its 13-inch and 15-inch iterations weigh around 3.02-pounds and 4.02-pounds. Apple wins the competition here, but it's probably not a difference you'll notice. Microsoft claims it's two times faster than Mac Book.
Alongside the Surface Book 2, Microsoft has rolled out a new mouse. It's called the Surface Precision Mouse. It showcases a more robust design than Surface Arc Mouse. It features 3 programmable left-side buttons and both Bluetooth and wired USB connections.
It's heartening to see Microsoft make such a steady progress. Just over two years ago, Microsoft unveiled its Surface Book hybrid laptop: a tablet with a detachable hinged keyboard base. Initially introduced as Microsoft's first "true" laptop, Surface Book has gradually advanced into Surface Book 2.