Not too long ago, the folks at Microsoft introduced a slew of new Surface devices designed for Windows 11 and the Android mobile operating system. From what we can tell, this was the most significant update of the Surface portfolio ever, and it has everything to do with the launch of a new operating system.
The idea behind these products is not just to be a stage for Windows but also to push the platform and the overall ecosystem forward in a huge way. That's what Microsoft is hoping for, and after extensive research, we believe the company can achieve this. Interestingly, all of the newly announced products are 2-1 computers in some shape or form. To us, it signifies the slow decline of the traditional laptop computer as touch becomes more meaningful outside of the smartphone.
New Surface devices built for Windows 11 launched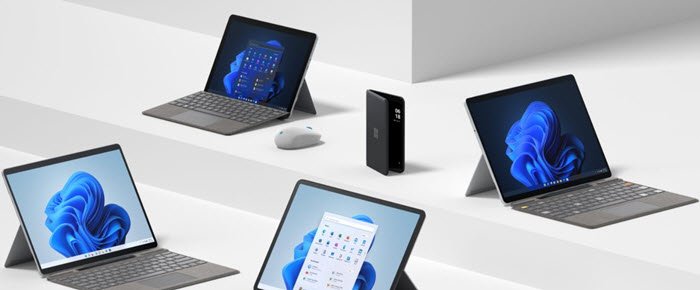 Let's go deeper and see what these devices are all about, and then from there, you can decide if they are worth your time.
Surface Laptop Studio
This is the most potent Surface the software giant has ever built. You see, the Surface Laptop Studio is a culmination of years of innovation into a single device. The display is better, and the same can be said for the silicon and hinges. Microsoft built this product with developers and creators in mind, and it shows.
It comes packed with a 14.4″ PixelSense touchscreen display, Surface Slim Pen 2, 11th Gen Intel® Core™ H35 processors, and NVIDIA® GeForce RTX™ GPUs. The price for the Surface Laptop Studio begins at a whopping $1599.99, which should come as no surprise.
Surface Pro 8
The company stated that the Surface Pro 8 is more than twice as fast compared to the Surface Pro 7. This has a lot to do with the 11th Gen Intel® Core™ processors, two Thunderbolt 4 ports, and built on the Intel® Evo™ platform.
Expect to gain around 16-hours of battery life with this thing, making it one of the most powerful 2-1 laptops on the market today.
When it comes down to the screen size, well, it's a 13″ PixelSense touchscreen that is virtually edge to edge. In terms of cameras, it comes packed with a 5MP front-facing camera, 10MP-4K rear-facing camera. The price for the Surface Pro 8 begins at $1099.99.
Surface Pro X
Windows running on ARM is not dead due to the Surface Pro X. This product is powered by Microsoft SQ2 ARM silicon, and with 64-bit emulation built-in, users should be able to run most apps with minor problems.
So far, Microsoft Office and Teams are optimized for ARM, and the same can be said for Adobe Photoshop and Lightroom.
The price of the Surface Pro X begins at $899.99.
Surface Go 3
If you're looking for portability but still want Windows to be the core of the experience, then the Surface Go 3 is your best bet. It comes with an Intel Core i3 processor, making it 60 percent faster than the previous product. It has optional LTE Advanced, Microsoft security built-in, all-day battery life, and a 10.5″ touch display.
The device only weighs around 1.2 pounds, making it perfect for carrying around. The cost for the Surface Go 3 begins at $399, so go on ahead and pre-order a copy right now.
Surface Duo 2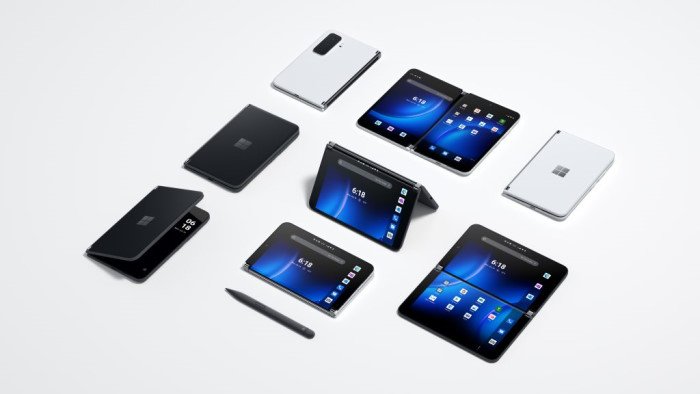 Finally, let's look at the Surface Duo 2, the second Android-based smartphone from Microsoft. It follows in the same steps as the original by providing dual 8.3″ PixelSense Fusion displays. It's faster, too, due to the addition of the Qualcomm Snapdragon® 888 5G Mobile Platform, and not to mention the triple camera system designed to deliver better photos than ever before.
Because it comes packed with two giant screens, multitasking is unparalleled, according to Microsoft. There is also NFC for contactless payments and an array of new accessories that add unique features and extra protection.
To get your hands on the Surface Duo Pro, be prepared to spend $1499.99 or more for the privilege.
Microsoft Ocean Plastic Mouse
Microsoft has created a high-quality resin made of 20% recycled ocean plastic recovered or washed ashore from oceans and waterways. The Ocean Plastic Mouse, made from this resin, is an eco-friendly, comfortable accessory that takes small steps to reduce waste while putting a powerful accessory at your fingertips.
Surface Adaptive Kit
The Surface Adaptive Kit is the result of designing in partnership with people with disabilities. This kit is designed to make devices more accessible without compromising on form or function. Keycap labels, bump labels, port indicators and even device openers make finding, opening and using devices easier than ever.
Read about all this and more here at Microsoft.com.