The Surface Hub team announced that the platform would now be offering subscription-based models, for business customers and premium consumers, to buy or lease the Surface Hub's features. This big announcement comes as a result of their studies involving the increasing use of Surface as a product.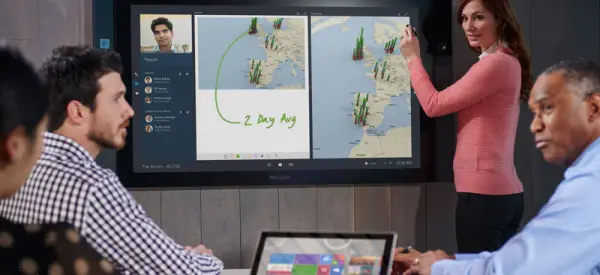 This new subscription-based model will involve initial investment as well as configuration costs, as per the user's needs. The blog post from the Hub team mentions that a survey had revealed that over 73% of their business customers preferred a subscription model for the variety of options that the company provides.
This has been taken as a cue by Microsoft as taking Surface and also offering it as a complementary good, to lure in resellers. For that initiative, the company is launching the Surface Hub Value Added Distributors Program for Opportunity Resellers (VAD-OR). The Surface Hub VAD-OR Program will allow select Surface Hub distributors to deliver the same quality services to Opportunity Resellers without the requirements for building a long-term transactional business.
Surface Try & Buy Program
Another exciting announcement at ISE 2017 from the Surface team was the new Try & Buy that they would be piloting starting February 15th.
Microsoft Surface Hub is a perfect solution for ALSO's strategy to foster its position as a value added solution provider. Partners are offered numerous complementary services from ALSO like logistics, trainings, installations, network integration or financial services to fulfill their customer needs. This solution presents the perfect opportunity for our resellers to win big projects without jeopardizing their liquidity and be a full solution provider for their customers. said Philipp Grüter, European Partner Manager, ALSO.
Under this program, resellers across the U.S., U.K., Europe and Asia will be able to provide their customers with Hubs for 30 days before requiring a commitment to purchase a larger set of devices. This allows firms to make a more informed choice about whether they want or need a Surface Hub without the hurdles of making a large initial investment as well.