Microsoft has published more detailed lifecycle information to streamline software deployments on the Surface lineup. As a result, now we know the End of Service dates for Microsoft Surface devices, including Surface Go 2, Surface Book 3, Surface Pro X SQ2, and Surface Laptop Go. The End of Service date is when Microsoft ceases publication of drivers and firmware updates on Surface.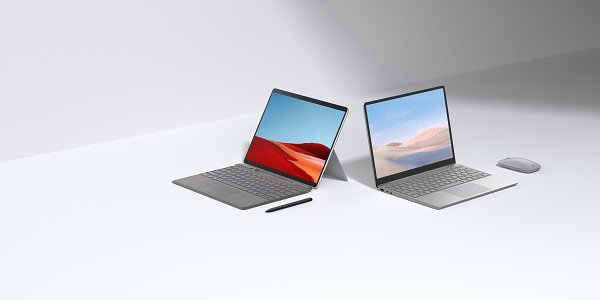 Microsoft Surface End of Service dates revealed
The 2020 Surface lineup will reach its End of Service sometime 2024. Meaning, the recently-announced Surface devices will stop releasing drivers and firmware updates approximately four years from now.
According to Microsoft, Surface devices receive driver and firmware updates for at least four years from when they are released. If the support duration is longer than four years, Microsoft will publish an updated end of the servicing date before the last servicing date.
"Surface devices will receive driver and firmware updates for Windows OS versions released in the prior 30 months. Surface will not support Windows OS versions earlier than the OS versions supported at device release. For the minimum supported OS version of your Surface device, see Surface supported operating systems support," Microsoft said.
Following is the End of Service timeline for some of the recently released Surface devices (2019 onwards):
| | |
| --- | --- |
| Surface Laptop 3 | October 22, 2023 |
| Surface Pro 7 | October 22, 2023 |
| Surface Pro X | November 5, 2023 |
| Surface Go 2 | May 6, 2024 |
| Surface Book 3 | May 26, 2024 |
| Surface Pro X SQ2 | October 13, 2024 |
| Surface Laptop Go | October 13, 2024 |
Does it mean the end of Surface devices?
Well, the End of Service dates are limited to driver and firmware updates. However, it doesn't mean the listed devices are meeting their end of the line. Despite End of Service, Microsoft will continue to release Windows operating system updates and critical security patches updates.
"Once the device support period is concluded at the End of Servicing Date, devices will continue to receive Windows OS feature and security updates in accordance with the Windows Lifecycle Policy as described on the Microsoft Lifecycle Policy support page," Microsoft added.
As part of its new strategy, Microsoft has announced that there will be a delay in the Windows update.