iFixit recently, released the findings of its teardown of Surface Pro. Microsoft's new powerful tablet – laptop or 'lablet' as the folks over at iFixit referred to it as, has been torn down completely reveling its internals and components.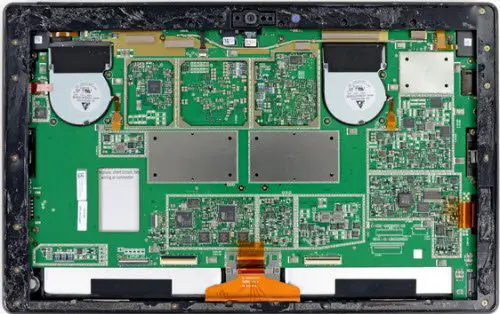 iFixit found that it wasn't easy getting into Surface Pro, as compared to Surface RT. The only way of getting into Surface Pro was to soften the adhesive that held the display stack in place and pry it out; which could however prove to be destructive. There were 90 screws in total for Surface Pro and it received a reparability score of 1 out of 10.
Inside, there is basically a Samsung LCD display driver, two fans, 720p Lifecam camera, Intel Mobile HM77 Express Chipset, Marvell Avastar 88W8797 Wireless/Bluetooth/FM Radio Controller, Novatek NT96132QG46, 2x Winbond 25X05CL Serial Flash, Winbond 25Q64FV Serial Flash and an Intel i5 processor.
The Windows 8 operating system and the full Microsoft Office suite takes up 30+GB of the 64 GB total storage. After considering the factory restore image, the Surface Pro provides users with around 29 GB of usable space.
Microsoft spared no expense when it came to keeping the Surface Pro going. They sourced the Cadillac of batteries from LG: an Escalade 42 Wh unit. The battery is rated for 7.4 V and 5676 mAh; says iFixit.
Surface Pro Teardown
You can read the full report here.
Go here to read the Microsoft Surface RT Teardown results.