The Sway team has decided to encourage the users more for using their creativity. Now you can create and share interactive stories using the images on your machine. This is possible because Sway is now integrated with Microsoft Photos app on Windows 10.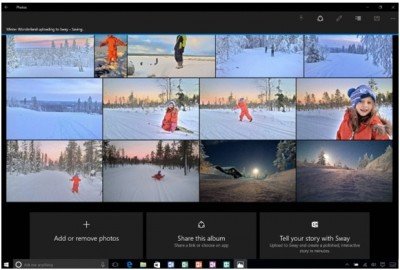 Sway integrates with Microsoft Photos app
Sway is the digital storytelling app from Office. With its integration with Microsoft Photos app, Microsoft has shown that the Window 10 apps can work together. This amalgamation of Sway and Microsoft Photos app will enable users to do more, be more creative and achieve more. What more, Sway, once downloaded on Windows 10 device, can be used on any of the Windows 10 devices through internet. As a result, users can easily use the videos and photos on their Windows devices to create and share polished, interactive stories with family and friends. You can now share your adventure story to your family and friends more efficiently, thanks to Sway and Microsoft Photos app working together.
The Sway team mentioned on the Windows blog,
"Microsoft Photos brings together photos and videos from all your devices, making it easier to work with and organize them into beautiful photo albums, and transform them into memories for you and your family. With Sway, you can craft a narrative around the individual photos and videos that you share with your loved ones, and turn your album into a professionally designed personal story in minutes."
How to use Microsoft Photos and Sway together
The Sway team mentioned how easy it is to use Sway when it's integrated with Microsoft Photos.
Click the "Tell your story with Sway" button in Microsoft Photos. This way your album immediately becomes an interactive, web-based experience.
Use Sway to add section headers, text narration, captions, and other details to enhance the flow of your narrative and create your own story.
You can also add in all kinds of other web-based interactive media, too, including tweets, Vines, maps, charts, and even Living Images (which capture additional pre-photo footage and breathe additional life into your narrative).
Using Sway and Microsoft Photo App, you can tell the tale of your recent vacation, make an instructional video or even create a blog style recipe of the delicious food. Basically, the possibilities are endless with Sway and Microsoft Photos together.
As the Sway team has mentioned in the blog, if you have never used Sway, an account will be created the first time you use this integration in Microsoft Photos. You can also create an account at Sway.com. Get the updated version of Microsoft Photos, and start telling your own stories with Sway.