Sway, the creative presentation app from Microsoft that has been in testing mode for the last 10 months has finally come live on Windows 10. Cousin to PowerPoint, however much more innovative, Sway is a digital storytelling app that can be used to produce and share interactive reports, presentations and personal stories.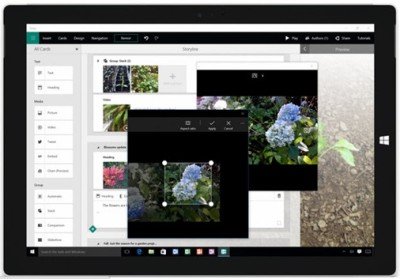 The app, however was in public and private testing mode since its introduction in October 2014.  Yesterday, Microsoft announced the general availability of the app to all Office 365 for business and education customers worldwide.
Is Sway, a competition to PowerPoint?
Yes, Sway creates presentations and is already a part of Microsoft Office suite; however, it is different when compared to PowerPoint. Sway is much more automated and thus simple to operate. While PowerPoint has manual formatting functions and is thus capable of building customizable complex presentations. Sway is far more comparable to Prezi and Haiku Deck than PowerPoint.
Microsoft has rolled out Sway for Windows 10 with a bunch of new features. Some of them were built in response to user feedback over the last few months. Here are some of the interesting features that Microsoft is bringing in with Swap.
Now, Sway has a new layout in the Navigation pane, which displays groupings of content one screen at a time. Hence, even though if it is a few words with a knockout background image, a set of images and supporting bullet points, or a cluster of interactive elements, now you can deliver a killer presentation in-person or for viewing across many devices.
Another big feature that Microsoft is bringing here is in the form of Docs.com. Docs.com is the place where you can publish collections of your Sways to share with friends, fans and the rest of the Internet community. With just a tap, you can now choose to publish Sways directly to Docs.com
The biggest feature of Sway is that it can be used by anyone and everyone, starting from a young student to a business person. The interactive feature of Sway makes it a perfect app to be used by people of different professions as well. So you will have musicians, digital artists, travelers, foodies, teachers and many more joining Sway soon.
All we can say is that this is definitely a great app from Microsoft and will only become popular by time.