With many companies shifting their focus to tablets, Razer takes a somewhat different approach. The world leader in high-performance gaming hardware, software and systems unveiled two versions of an ultra-thin gaming notebook : the 17-inch Blade Pro and its 14-inch sibling.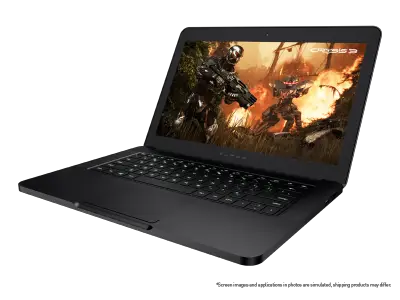 Blade Pro 17-Inch Gaming Laptop
The 17-inch ultrabook gets a a fourth-gen Haswell chip, upgrading from third-gen Intel Ivy Bridge silicon and exchanging NVIDIA GTX 660M for GTX 765M GPU. It boasts a 17-inch HD Screen and has some built-in professional-grade SBUI applications (Adobe Photoshop and Adobe Premiere Pro, Maya, GIMP and more) for creative professionals. the 14-inch laptop too boasts similar hardware configurations.
Min-Liang Tan, Razer co-founder, CEO and creative director says,
"With the Razer Blade Pro, we've designed a gaming laptop for work and for play—appealing to on-the-go hardcore gamers, game developers, creative artists and aspiring video professionals. The Razer Blade Pro can flawlessly run the most popular creative software applications, and is powerful enough to run the most graphically intensive games on the market today."
Razer's designers and engineers have attempted to enhance the performance of every inner component without compromising the portability. At 0.88 inches thin and weighing 6.5 pounds, the Blade Pro is the most portable 17-inch gaming laptop in its class.
The Razer Blade Pro is ready to ship with 128 GB of total solid-stage storage, with optional 256 GB and 512 GB SSDs. It's available for pre-order from June 3. For more information, go to this page. Price starts at $2,299.