Telegram is one of the most popular messenger apps along with WhatsApp and Facebook Messenger. It is mainly popular because of the support for high numbers of group members. The app has been updated to include features such as video editor, updated 2FA, Animated Stickers, Speaking GIF, and more. While WhatsApp is popular among the mass if you are looking for more features, flexibility, and excellent for extensive group management.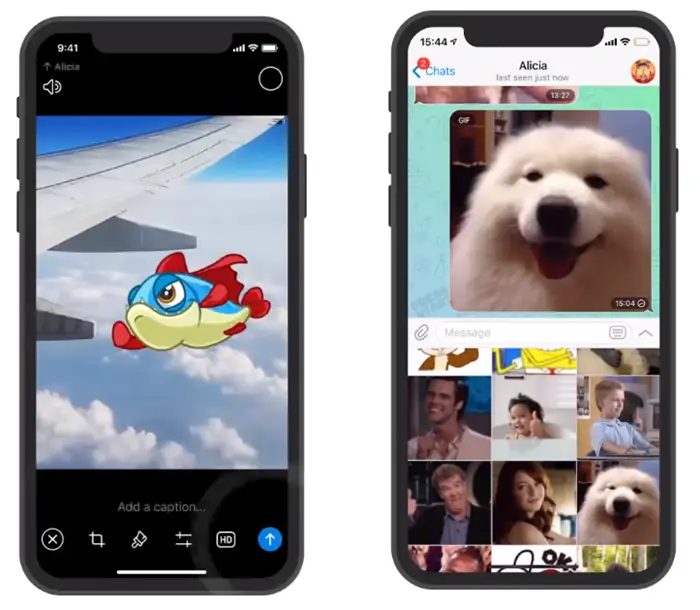 Telegram gets several cool features
These features will make sure the overall experience of using Telegram gets better. The video editor and option to add an animated sticker are pretty slick.
Video Editor with animated stickers
Video editing video has become equally important, and the media editor now allows you to add animated stickers to any video. You can also enhance the video by changing specific parameters such as brightness and saturation. You can even draw on the video to mark something which should be noticed. However, when you place a sticker, the output will be sent as a GIF file, which means it will have no sound.
Read: How to use Telegram app.
Speaking of GIFs
While Gifs never have sound, Speaking Gif is the WebM format that has video and audio combined. Since the size is a lot smaller and so is the length of the video, it delivers almost the same experience as the GIF files. The GIF panel has been upgraded with a new Trending section and emoji-based tabs that cover the most prevalent emotions.
Flexible Folders
These are like filters or grouping individual chat and group chat into a more customized group. Here you can choose to hold on any conversation on the list to add it to one of the folders. So if you have a set of people from work, you can add them to this folder.  On the desktop, it becomes available in the menu, under all chats.
Apart from these, Android users some extra features which include smooth animation, video player control, and captions are better, video shorter than 30 seconds are looped automatically. Then there is cache management.
The final thing in the goodies is the 2FA, or Two-Step Verification has been updated for all to secure your account. To enable 2FA, go to Settings > Privacy and Security,
That said, Telegram still missed no video calling, which is one the biggest bummer for users wanting to move to WhatsApp. It will eventually happen, but until then, you have tons of alternatives you can use. What do you think of these updates? Does it enhance the overall experience? Let us know in the comments.