As promised earlier during the Windows Phone 8 launch, Microsoft yesterday announced the launch of premier games on its Windows Phone platform like Temple Run, Gravity Guy 2, etc. With the Game Developers Conference happening through this week in San Francisco, many new game titles were launched for Windows Phone and are now live at the Windows Phone Store.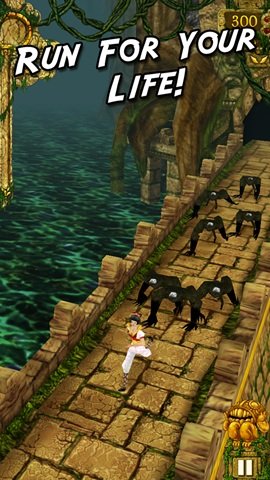 Temple Run, the addictive mega-hit running game which is already a hot favorite on Android and iOS is now available for Windows Phone 8. Other interesting releases are Gravity Guy 2 (sequel to the hugely popular Gravity Guy), Chaos Rings, 6th Planet, and Orcs Must Survive.
The highlight of the lot is of course Temple Run. For those who haven't played this game earlier, the description itself sets you up for a run:
Temple Run sets you off on one of the most heart-pounding challenges ever. Swipe to turn, jump and slide as you race over obstacles and whip around corners on a pathway resembling China's Great Wall, all on your way to capturing hidden treasure. Collect coins, buy power-ups, and see just how far your feet can take you, with the beat of native drums setting your pace.
Windows Phone users will however be behind their Apple and Android counterparts as for the latter, Temple Run 2 is also available while Temple Run has just debuted on Windows Phone.
Microsoft notes that 'new Windows Phone 8-compatible gaming engines make it much easier for programmers to quickly create Windows Phone versions of their Android and iOS games' and asks users to expect many more great game titles in the Store in the coming months.
As for now, Windows Phone 8 device owners, download Temple Run and run for your life!