Three enemies on the road – Speed, liquor and overload! May be there's one more but not considered as deadly as these, Texting! Yes, A recent study has revealed texting while driving is killing more teenagers every year than drunk-driving in the U.S.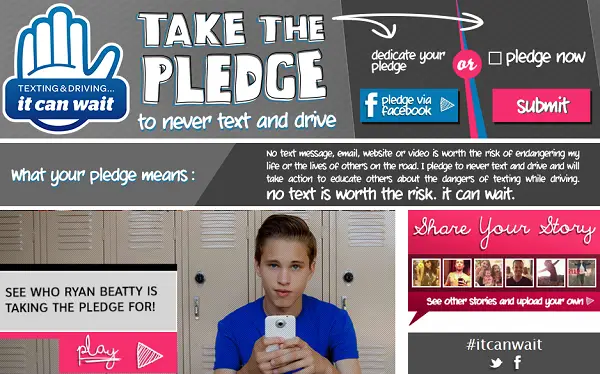 No Texting while Driving. 'It Can Wait' Ad Campaign
Taking stand against this act of texting while driving mobile companies have come up and launched "It can wait" campaign to educate users strongly on the topic. The campaign is Initiated by AT&T and backed by other popular cellphone companies like Verizon Wireless, Sprint, T-mobile and 200 others.
The multi-million dollar joint ad-campaign sees the rivalry of the network carriers being put aside for a better cause. The campaign in my opinion will promote the use of hands-free accessories more to make calls while driving.
It will also share the story of those who have taken the pledge for some reason. It can wait campaign kicks off on May 20 with the story of Xzavier Davis-Bilbo whose life was changed in minutes because of such (texting while driving). Xzavier in 2010 was paralyzed completely from below the waist, after being hit by a car driven by a young woman who was texting while driving. He was only 5 years old then.
So, pledge for something and be a part of the campaign. You can find the full details of the entire campaign here.
Visit ItCanWait.com now!