Windows 10 1909 will soon become available to general consumers, but as usual, they will be first available for developers. Intresting part is that Microsoft Windows Team says that there will be no new Windows SDK – but if you use Windows UI Library, you may need to update.
The primary reason is that this feature update is all about or select performance improvements, enterprise features, and quality enhancements. Here is what you need to to update Dev environment for Windows 10 1909.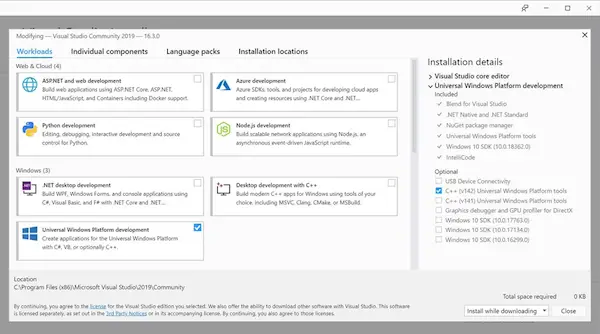 How to update the dev environment for Windows 10 1909
However, there is a small update needed from the developers' end. Since the team has also released Windows UI Library 2.2, where they added a new TabView control, new Visual Style updates, and update NavigationView as well, here is what they can do.
The first thing the developers need to do is get the Windows 10, version 1909. It can be done either using a VSS subscription, or you can use the Windows Insider Program Release Preview Ring. We have a detailed guide on how you can opt-in for Insiders Program. Go ahead, and do that.
The second thing is to go into Visual Studio 2019 and install the latest SDK, and you're good to go. In the latest Visual Studio, the Windows 10 SDK (10.0.18362) is already selected by default.
Run the Visual Studio installer or download it.
Select Universal Windows Platform development under Workloads, Windows 10 SDK (10.0.18362) will be included by default
Click Install.
While the apps are going to work on Windows 10 v1909, as they were in 1903, you can still choose to update the version number. You do not need to push any significant update for your apps to work. If you been using the Windows UI library, you need to republish to align with the UI changes. You can read more about it here on windows.com.