Do you love pictures of Earth taken from space? If yes, Canon's website powered by CE-SAT 1 (Canon Electric Satellite 1) offers some incredible views. It is experimental earth observing microsatellite developed and built by Canon Electronics. The satellite was launched in June 2017 as a secondary payload on an Indian PSLV rocket.
Click Photos of Earth from Space using Canon's CE SAT 1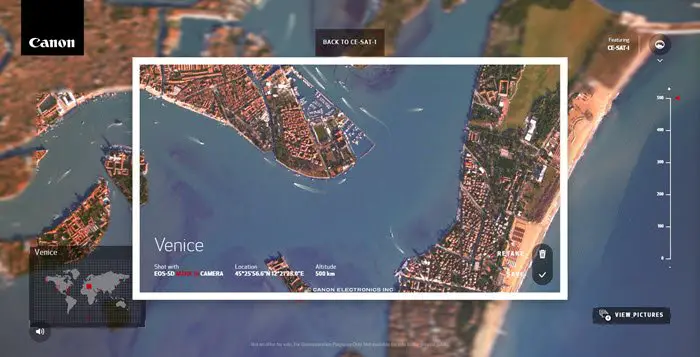 The website offers around 9 places, of which you can manually take a snapshot and then save it on the computer.  All images taken are using the EOS-5D Mark 3 Cameras.  The locations include
Antarctica: To monitor ice cap status
Dubai:  Palm Jumeirah
Venice
Japan: Canons Akagi Plant where the satellite was developed
Bahamas
New York City: Monito traffic to find the fastest route to cars and trucks
Black Rock City
San Jose
Alaska
Canon's goal here is to make the high-resolution images more accessible to get a better view of the plane. It is not just about taking a picture and download it, but the satellite is being used to track many things like the melting ice cap, for instance. It is also to showcase that Canon's camera is powerful enough to survive the space and not just weddings. It can track ocean pollution and wildfires to traffic management and optimize crop yields.
Here are the tech details of the CE SAT 1
High-resolution Canon Cameras: Equipped with Canon imaging technology, this microsatellite provides a 3-foot ground resolution from a 310-mile orbit within a 3-mile x 2-mile frame size.
Camera: Canon EOS 5D mark 3 equipped with telescope PowerShot S110
Compact Size: Roughly the size of a wine barrel – much smaller than a traditional satellite.
Novel Reliability Concept: Built with modified consumer-grade parts, the CE-5AT-I is quicker and more cost-efficient to build.
Data Generation: The CE-5AT-I can generate and supply precious data for various applications and businesses.
Visit redefinethelimits.us to check out the website.
I hope this brings some joy to your life. You can download the images and then use them as wallpaper.